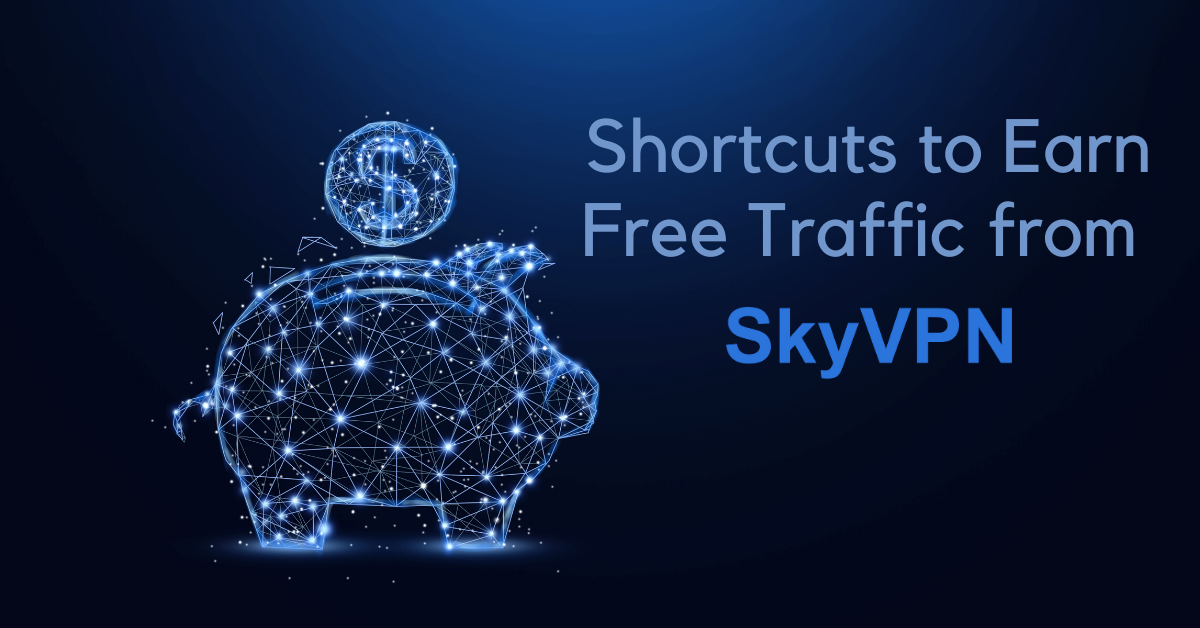 SkyVPN, trusted by over 200 million users worldwide, provides you with access to a real FREE world. It is an excellent VPN with fast speed, high security and privacy guarantee, and free service mode.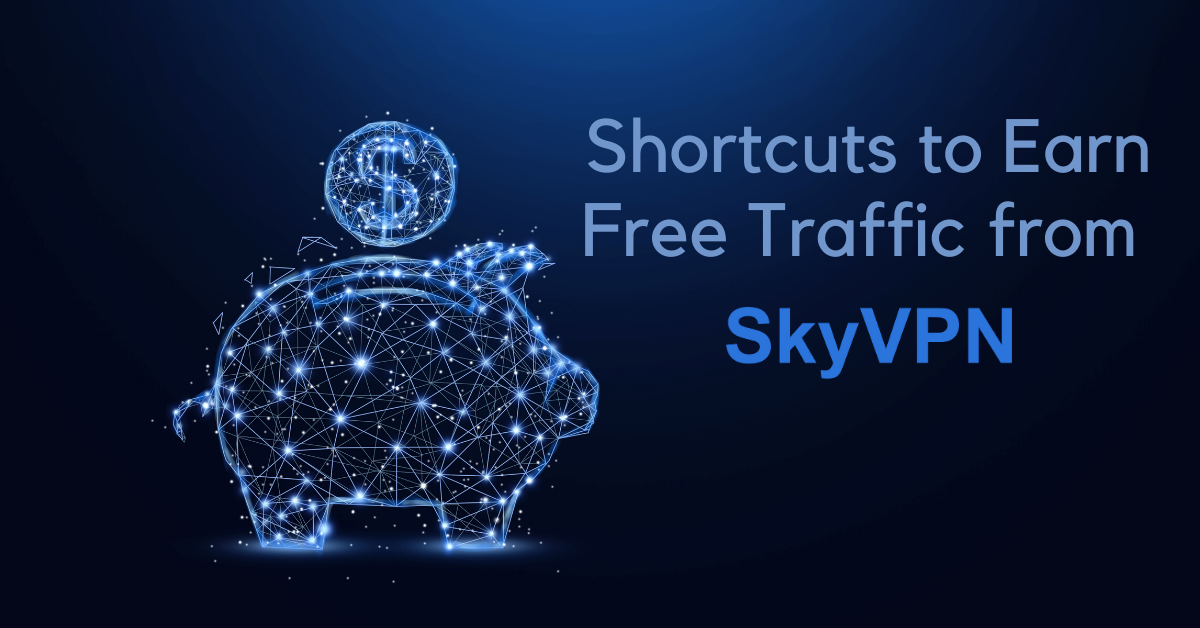 SkyVPN: Best Free VPN
Although lots of VPNs on the current market are promoted as free VPN, only SkyVPN is labeled as the best free VPN because of the free service mode that allows its users to use it free of charge through their own efforts.
Users are allowed to get free Premium traffic from multiple tunnels.
Daily Rewarded Traffic
First, each user has some rewarded traffic as soon as they become a SkyVPN user. Based on different locations, different amount of traffic is rewarded.
Numerous Simple Tasks
Then, users are allowed to complete simple tasks to gain traffic for free, including Daily Check-in, Feeling Lucky, Watch Videos or Special Offers. Then, how to make the best of the above tasks for optimal traffic earning will be introduced in the rest of the article.
Invite Friends to Use SkyVPN
A successful invitation of a new friend to use SkyVPN is a real bargain! After all, everybody needs a VPN and it's easy to invite friends to use it to protect their online security and privacy.
How to Earn Free Premium Traffic Quickly?
Here's a tutorial for you on how to earn SkyVPN premium traffic and how to quickly earn 1GB free Premium traffic just in one day.
Step#1: Download and set up SkyVPN on your device.
To earn free Premium traffic, first of all, you need to properly download and set up SkyVPN correctly on your devices supported by operating systems of Windows, iOS, or Android.
Once all is configured, you may move to the next step.
Step#2: Register and Login SkyVPN account.
To better manage your earned SkyVPN premium traffic, you should first sign up a SkyVPN account using your email address. Then, you need to log in to your SkyVPN account after registration.
Step#3: Open SkyVPN and tap "Get Premium Traffic".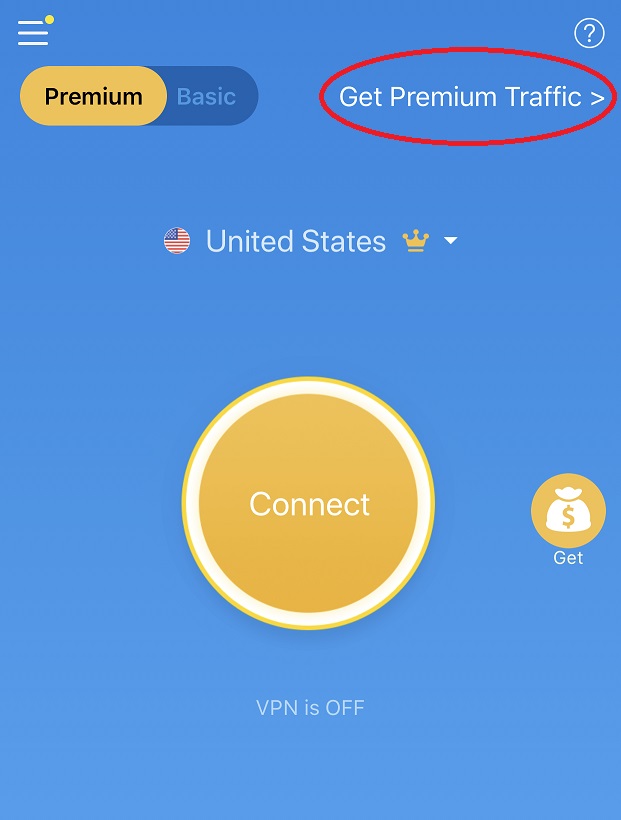 Don't get confused or scared by the word "Premium". After all, most VPNs conform to the combination mode of Free plus Premium. Although it's called "Premium Traffic", it can still be used for free as far as SkyVPN is concerned. Therefore, it's time to understand why SkyVPN is labeled as the best free VPN.
So, don't hesitate. Just Tap!
Step#3: Earn your FREE Premium Traffic.
After entering the "Get Premium Traffic" page, you'll read a list of tasks by which you'll earn free premium traffic on SkyVPN.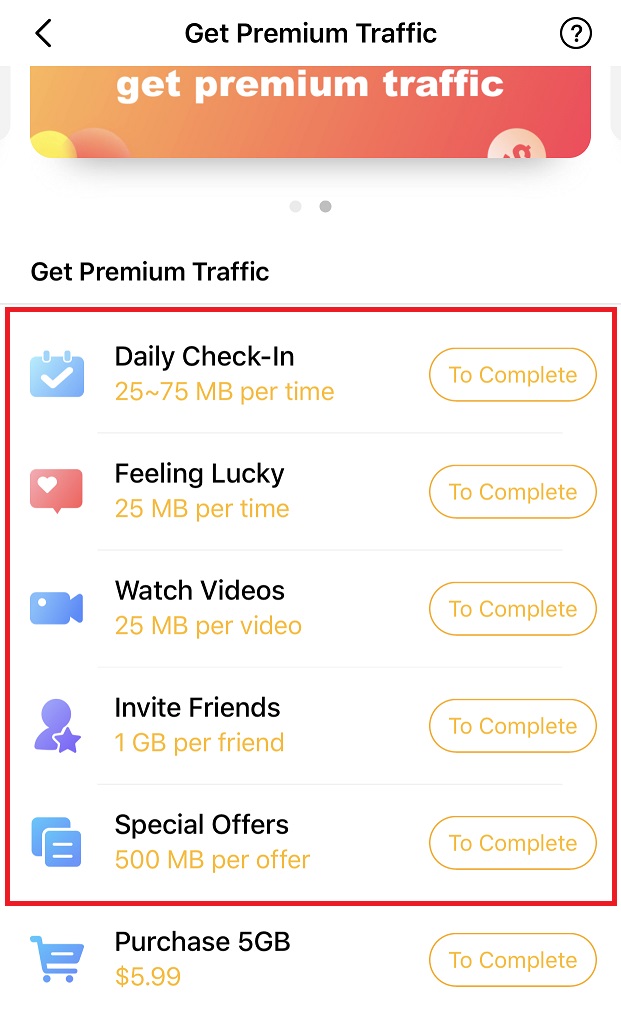 Tips to Quickly Maximize Your Premium Traffic on SkyVPN
Tip#1. Select Tasks with High Traffic Reward
It's not difficult to figure out which is the most cost-effective task based on the list above. Yes. If you successfully invite a friend to use SkyVPN, you'll win 1GB premium traffic. However, it won't be available at any time. After all, SkyVPN is so widely used that it's not so easy to invite a really first-user of SkyVPN around you.
Compared with the 1GB traffic through inviting friends to use SkyVPN, Special Offers are also a good choice if you want to quickly earn Premium traffic.
Tip#2. Never Ignore Small Tasks
Tasks with low traffic amount shouldn't be ignored as well because accumulation after consecutive days brings forward huge traffic like Daily Check-in. In addition, small tasks to gain traffic from SkyVPN is a good way to kill time when you have to wait, like waiting for the bus or subway, or even in a bathroom. Whenever you hold a mobile phone in hand, you'll have time to earn the traffic.
Tip#3. Never Miss Any Chance of Earning Traffic
#Daily Check-in: 25-75 MB per time.
Ordinary Check-in helps users to earn 25 to 75MB each time. When daily check-in is constantly made, more traffic to use builds up.
#I'm Feeling Lucky: 25 MB per time.
The traffic you can obtain from Feeling Lucky is random. If you get up to 25 MB of traffic, congratulations! You are the luckiest dog of the day!
#Watch Videos: 25 MB per video
Yes, you can earn 25 MB just by watching a video, normally a short ad.
#Invite Friends: 1 GB per friend
Whenever you successfully invite a friend to use SkyVPN, you can get 1 GB traffic. That is really a huge bonus!
#Special Offers: 500 MB per offer
You'll always have multiple chances to earn special offers: enabling your location, filling in a questionnaire, downloading a sponsored App, etc.
So, you will get at least 1.575GB free premium traffic by finishing a round of the above options. If you want more free traffic, just repeat another round.
Is Free Premium Traffic the Same as Premium Plan?
Absolutely not. If it's the same, it would be of no necessity to create two Premium plans. The differences between them are as follows:
#Free Service vs Paid Service
The former is totally free, while the latter requires payment. SkyVPN offers you free Premium services for you to get connected with the world, and the Premium plan is to make your connection faster and more stable.
#Pop-up Ads
The free service has pop up ads every time you open the app because it's a mode for free service, while the paid version has a function of Ad-free.
#Usable Time
The free service has limited time, and you need to spend time in earning free traffic. The paid version has unlimited use time.
#Connection Speed
The paid version has unlimited bandwidth while the free version does not have. With unlimited bandwidth, the connection speed of the paid version is way faster than the free one.
#Servers
The paid version has exclusive servers for you to choose while the free service has limited servers.
#Security and Privacy
The paid version has a military-grade security guarantee and no logs of your online activities won't be kept.
For the paid service, you're allowed to have a 7-day free trial before real purchase. If you do not mind the above-mentioned differences, SkyVPN free premium traffic is still your best choice.
VPN is the easiest tool to safeguard your online security and privacy. SkyVPN offers free online data traffic for users every day to access online content at no cost with its Excellent Performance, High Connection Speed, Free Service Mode, and High-Security Protocols.
---