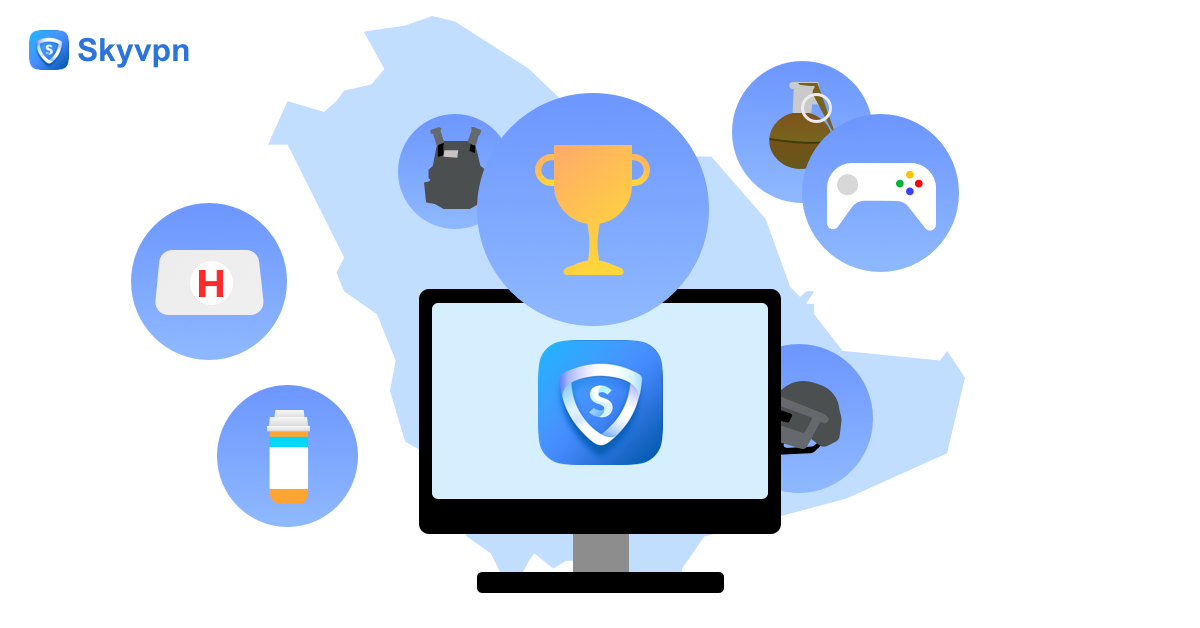 Whether you're under self-quarantine or government-mandated isolation, it's a great time to enjoy video gaming online. Unfortunately, some popular games are banned in Saudi Arabia. That stops ordinary people from relaxing themselves by video games. Worse still, professional game players' profit will be dramatically cut since they fail to take part in the world-level online game competition. However, VPN is beneficial to unblock the gaming ban in Saudi Arabia.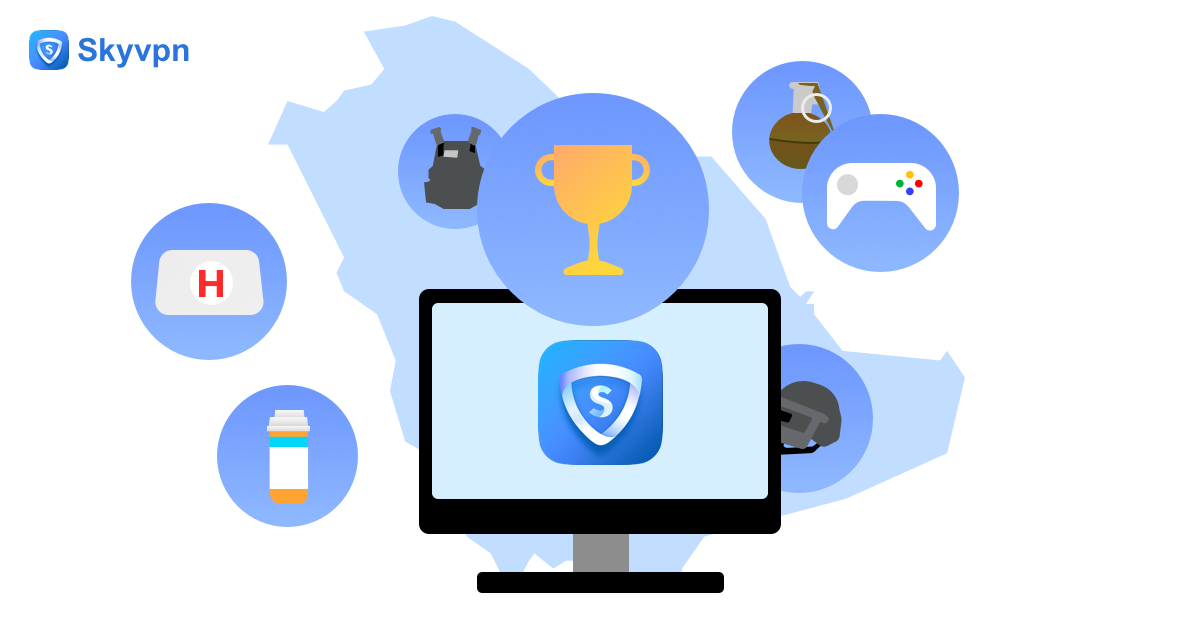 How to Unblock Gaming Bans in Saudi Arabia?
Video games are released based on different schedules in different countries or regions so that game players aren't equivalently allowed to enjoy the video game. However, if your IP address is changed, your geographical location will be thereafter "changed". Therefore, local gaming resources can be used although you're not truly staying there. That's a VPN do.
What is a VPN?
VPN, short for Virtual Private Network, is an encrypted tunnel through which data can be transmitted without being monitored by third parties or even hackers. It provides a way to protect your online activities from being captured by Internet Service Provider because it can mask your IP address so that your real geographical location fails to be known. Similarly, the hidden IP address can help you to bypass local restrictions including gaming bans.
How does a VPN Work?
As your device gets connected with the Internet through a VPN server located in another place around the world, all the requests sending from your device are regarded as those from the VPN server location. Local government restrictions fail to recognize you to be on the list of banning so you can bypass the ban.
What Contributes to the Best VPN for Online Gaming in Saudi Arabia?
The best VPN fit for online gaming has the following features:
High Speed
High speed is the top requirement a gaming VPN should meet. A large amount of data will be transmitted from devices and gaming servers, so high speed has to be achieved for no delay. Fast VPN connection speed ensures the smooth running of the whole gaming process.
No Bandwidth Limit
It's optimal to select a VPN without a bandwidth limit for your online gaming, which is especially true when multiple players are online. The more players take part in the game, the more data will be needed. SkyVPN has no bandwidth limit so that players can better enjoy their online gaming.
Security and Privacy Protection
Actually, the essential reason for you to use VPN for video gaming lies in your online security and privacy protection. You just don't see it. The more connections there are, the more possible data breaches will be. In the process of video game playing, multiple devices are connected with each at the same time and it is easier for a hacker to attack user's device or network. The encrypted tunnel provided by VPN hides your transmitted data so that third parties won't be able to see or touch it.
Multiple VPN Servers
VPN server count tells how many selections a user is allowed to choose. Basically, the more VPN servers there are, the faster connection users can reach. Up to now, SkyVPN has equipped over 3,000 VPN servers around the world and the number is still going up, catering to video game players' requirement on both speed and performance.
High Reputation
Nothing can directly indicate the best VPN except a high reputation. Owing to more than 20 million users' feedbacks, SkyVPN has been widely called as "game-changer VPN". Why? Most users depend on SkyVPN to bypass the gaming ban.
Top 5 Games Banned in Saudi Arabia You Can't Miss with VPN
God of War
It was awarded Game of the Year by numerous media outlets and award shows. The game performed well commercially, selling over five million copies within a month of its release and over 10 million by May 2019, making it one of the best-selling PlayStation 4 games. God of War has been one of the best games you won't regret to pay because of everything is so real in the game. How do you teach a son who you're afraid will end up just like you? How do you relate to a neglectful father who won't tell you who he really is? God of War is an unexpected departure for the series, one that hopes to marry its energetic violence and spectacle with a more somber reflection on family. A novelization was released in August 2018, followed by a four-issue prequel comic series published from November 2018 to February 2019. You don't want to miss the game. Click here for more information about God of War.
The Witcher 3
Wild Hunt was released for Microsoft Windows, PlayStation 4, and Xbox One in May 2015, with a Nintendo Switch version released in October 2019. It was a commercial success, shipping more than 20 million copies by June 2019. This world is populated with intelligent inhabitants and animated by new mechanics that make it a dynamic, living, breathing place. As players travel the world, witnessing many a sunrise or sunset, enduring torrential rains or sweltering heat, they see predators hunting their prey, villages defending themselves against monsters, lovers meeting by moonlight. It received numerous Game of the Year awards and has been cited as one of the greatest video games ever made. One of the best Open World RPG ever made!! For more information about The Witcher 3, click here.
Heavy Rain
Once near the forefront of a revolution in narrative game design. Heavy Rain is an interactive, single-player, action-adventure game in which every decision players make influences the evolution of a desperate quest to catch a deadly killer poised to strike again. Featuring a complex and dark storyline meant for mature audiences, the game is a PlayStation 3 exclusive featuring a variety of possible endings, advanced crime scene analysis, replayable chapters, four playable characters and the ability to continue to play as remaining characters in the event of your current character's death. The player's decisions and actions during the game affect the narrative. Click here for more information about Heavy Rain.
Red Dead Redemption
Red Dead Redemption is a Western action-adventure game developed by Rockstar San Diego and published by Rockstar Games. A spiritual successor to 2004's Red Dead Revolver, it is the second game in the Red Dead series and was released for the PlayStation 3 and Xbox 360 in May 2010. Red Dead Redemption is set during the decline of the American frontier in the year 1911 and follows John Marston, a former outlaw whose wife and son are taken hostage by the government in ransom for his services as a hired gun. Having no other choice, Marston sets out to bring three members of his former gang to justice. Click here for more information about this game.
Metro (series)
Metro is a franchise consisting of novels and video games, which began with the release of Dmitry Glukhovsky's Metro 2033 novel in 2005. Although it began in Russia, the project enjoys plenty of popularity in Poland, Romania, Hungary, Ukraine and Germany as well. Ukrainian studio 4A Games had developed three video games set in the universe: Metro 2033 (2010), Metro: Last Light (2013) and Metro Exodus (2019). Click here for more information about it.
Unblock them with a VPN! You'll be able to enjoy an exciting and adventure world beyond imagination.
---