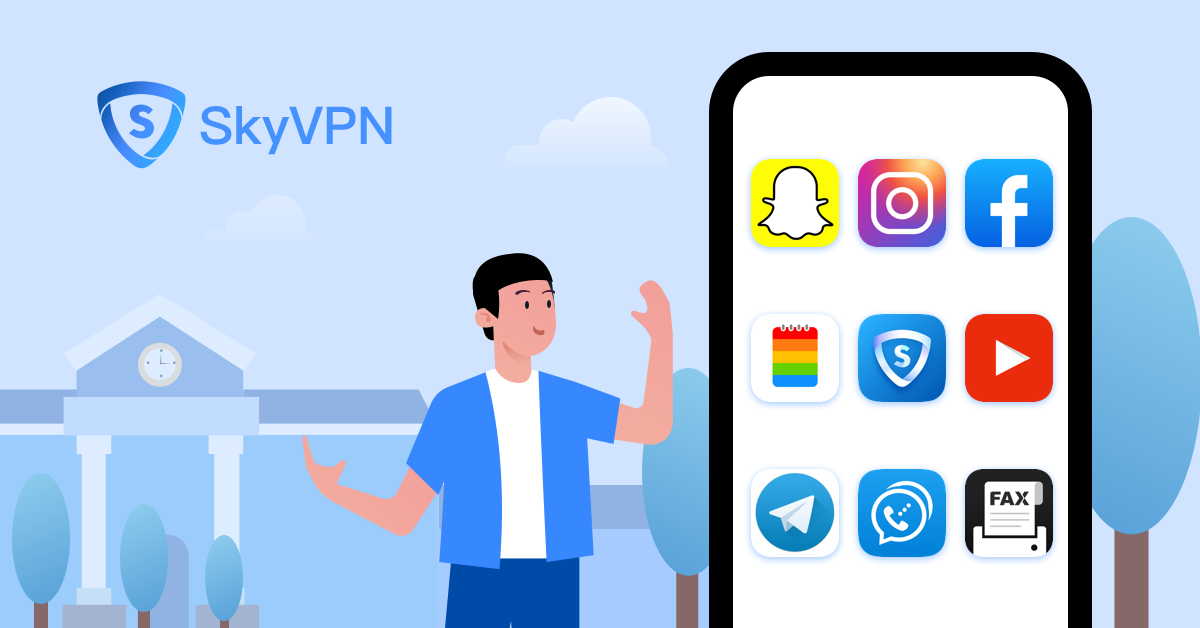 The new school year is approaching. The back-to-school season this year is so different from ordinary years that either online or offline learning is selected in different places due to the consideration of COVID-19.
No matter what happens, learning will still be implemented but in different modes. For online and offline learning, some must-have apps are essential tools to make school life better and easier.
You're also allowed to scroll to the end of this article to read a complete table introducing all must-have apps for online and offline school.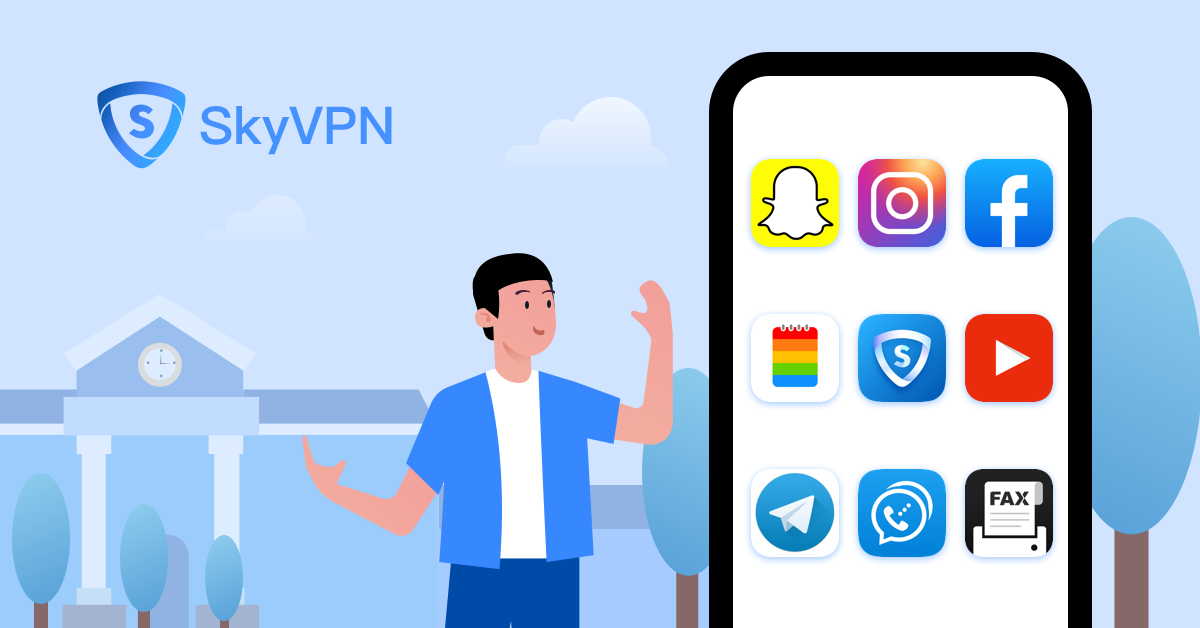 Must-Have Back-to-School Apps for both Online and Offline in 2022
No matter what style of learning is chosen, there are some apps that should be downloaded and used.
Academic Life Apps Fit for both Online and Offline Back to School
The primary task of a student is to study. Great study apps help you feel at ease in your busy academic life.
#Exam Preparation – BenchPrep


There are also student apps now available for exams such as the MCAT, GMAT, LSAT, and GRE tests, which are used by many graduate schools as part of the admissions process. BenchPrep uses social networking-style functionality which allows users to connect with other test-takers and peruse revision materials with quizzes, notes, and more. You can also use the app to track your learning progress.
#Paper Writing – Mendeley


Writing papers can quickly become an overwhelming part of your coursework. Use this app to keep your information organized, your citations correct, and the whole writing process as painless as possible! Mendeley is a reference manager app and social website intended for researchers and students.
#File Scanner – Fax

Want to share a file with your classmates or tutors but can't find a faxing machine? You need a mobile faxing app, FAX, which allows you to scan, edit, combine, sign your files, and send them to target numbers. No matter where you stay, it can be still used as a pocket faxing machine. This fax has been quite used by people during COVID-19 to promote telemedicine practice because patients and doctors fail to meet each other.
#Student Planner – Class Timetable

For a new semester, you must have different class schedules. Student planner apps help you with your daily schedules and send reminders and alerts straight to your phone or device. Class Timetable is a great choice.
Social Media Apps for both Online and Offline Back to School
Social networking is also an important part of students' school life. That's why you need to download social media apps to keep yourself connected.
Messaging and Calling Platforms
#WhatsApp


WhatsApp not only allows you to send a text but also allows you to share photos, videos, location, update status, and make voice and video calls over the Internet. It is one of the lifesavers through which you can stay connected to your friends and family even when you are on your international trip. So, if you are an exchange student, it is your best choice.
#SnapChat


It is an overrated extremely popular private messaging app for sharing photos and short live videos having a touch of fun elements attached with it. One special function of Snapchat is that once the message or snap is viewed, it will be disappeared forever.
#Messenger


Messenger used to belong to Facebook. Now it works as a great tool for contacting your Facebook friends. In addition, businesses can now advertise, create chatbots, send newsletters, and more on Messenger. If you are a student majoring in business, it is also a great choice for you.
#Dingtone


Dingtone is one of the leading apps for free calls and texts around the globe. It allows users to make international calls to any number (landline and mobile) at any place and at any time. It is an application that can be installed on your smartphones or tablets. Whenever there are WiFi and cellular data, it can be used for free. Users are allowed and encouraged to win Dingtone credits that are used to pay for your calling and texting rate. Therefore, Dingtone is fit for international students who have a high demand to call your family or friends around the world.
Blogging Platforms
#Instagram


It is the most popular image-sharing app among youngsters. It also allows you to share video clips. Students can share their selfies and videos along with appropriate hashtags to reach out to the maximum number of audiences.
#Facebook


Needless to say, Facebook is the biggest social media site around, with more than 2 billion people using it every month. That's almost a third of the world's population! You can text, images, videos, live videos, and stories. From Facebook, you can connect more with your family and friends.
#Twitter


It is one of the biggest platforms to share real-time news and get connected with famous personalities around the world like CEOs of big companies, politicians, celebs, etc. Like other social networking apps, you can also share photos, videos, and GIFs on it.
Video-Sharing Platforms
#YouTube


You can create a YouTube channel for your brand where you can upload videos for your subscribers to view, like, comment, and share. A lot of students record their Vlogs or OOTD of the day to enlarge their social network.
#TikTok


Tik Tok has been extremely popular recently among students. It is a short video platform where users can post many kinds of videos within 10 to 15 seconds. If you still don't download TikTok, you are out of data.
However, most social media apps mentioned above are forbidden by campus networks and you can't access them unless a VPN is used on your phone, which will be introduced in the later part of this article.
Free Time Apps for both Online and Offline Back to School
#Game- Animal Crossing


Animal Crossing must be one of the most popular games around the world. In the game, players all live in a village inhabited by anthropomorphic animals. The players can carry out various activities just like our daily life. The series is known for its openness. It also uses a lot of built-in clocks and calendars on the game console to simulate real time. It will be a pleasure for students.
However, just like social media that can't be accessed at school, online games fails to be accessed as well if a VPN isn't used.
#Movies & TV Series- Netflix


Netflix has different catalogs of movies and TV shows for different countries. You can also stream videos from Netflix.
#Online Shopping- Amazon


Online shopping is definitely a trend among students. You can buy good-quality goods from Amazon, sometimes it will surprise you with big sales.
#Fitness- Zombies, Run!


For those who would normally find running boring, the app Zombies, Run! is a fun way to motivate yourself when jogging. The app plays your own music playlists alongside recorded audio depicting a zombie apocalypse, in which you must run from the infected. More than a little terrifying, yes, but as a super-intense workout, it's hard to beat!
#Healthy Eating- MealBoard

If you're keen to eat healthily while keeping to a student budget, consider downloading a few healthy eating apps. MealBoard is an app that plans healthy meals, grocery shops, and recipes based on what you've got in the fridge. You can read about what brain food you should eat while revising here.
Must-Have Back-to-School Apps for Offline Campus in 2022
Academic Life Apps Fit for Offline Back to School
#Lecture Capture-SoundNote

Feel hard to note down all the words the professor said? Lecture capture apps allow you to record and listen back to classes without having to spend extra money on expensive recording equipment. SoundNote is a popular lecture capture app for iPad users, acting as a notepad and audio recorder, so you can store an entire lecture in both visual and audio form.
Must-Have Tools for Offline Campus
#SkyVPN


A VPN is a must-have tool for the campus because the school network stops students browsing social media accounts, spending too much time streaming videos or online games.
A VPN helps students to bypass school restrictions on social media, stream videos and online games so that they can browse them freely. SkyVPN is suggested because SkyVPN allows users to use it for free. Users are encouraged to win online traffic through completing simple tasks on the app.
A free charge is suitable for students who have a limited budget but need to break the ban.
Must-Have Back-to-School Apps for Online Campus in 2022
Academic Life Apps Fit for Online Back to School
#Zoom


For online learners, online video is the only way to have classes, which is why Zoom is dramatically used. Zoom supports video meetings of many people and it has been quite used during the COVID-19 pandemic. Although online learning differs from classroom learning in the location, the learning requirement stays unchanged. Zoom provides a platform where many students are allowed to take part in a video meeting at the same time smoothly and easily, ensuring high-effective online learning.
A Summary Table about Must-Have Apps for Online and Offline School in 2022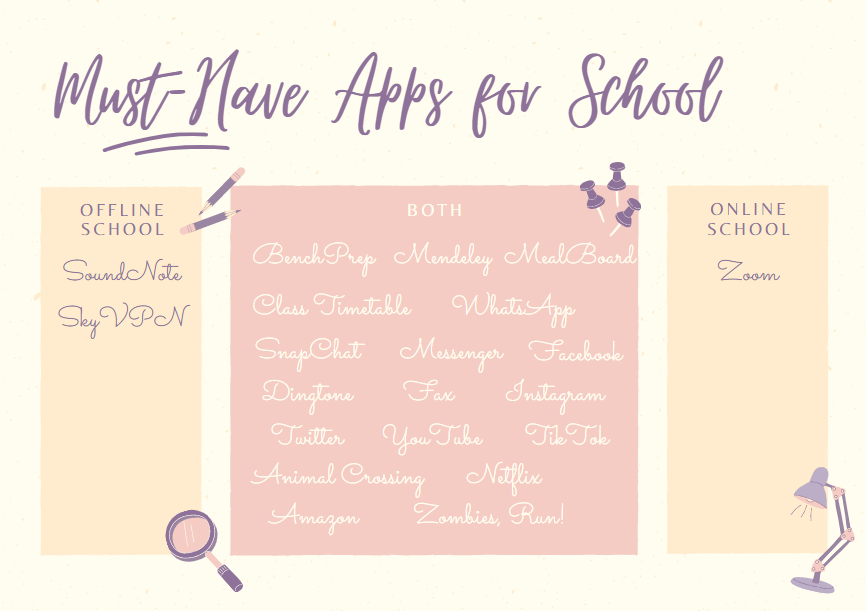 ---