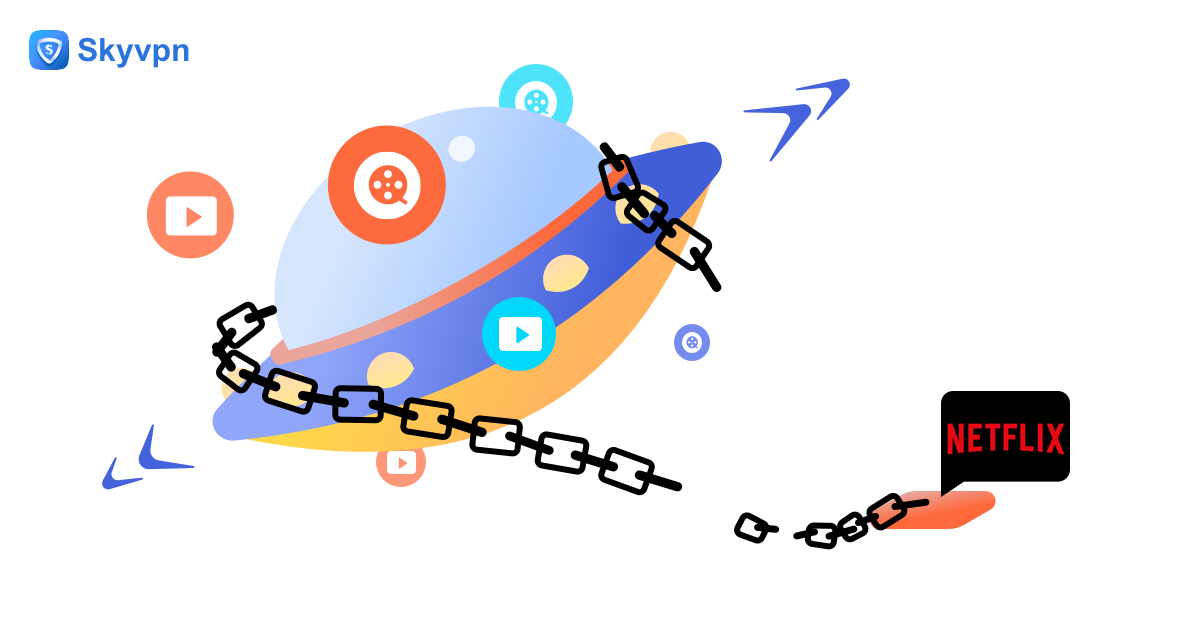 Netflix is no doubt one of the largest streaming services worldwide. It is available in more than 190 countries around the world, offering great television to viewers everywhere at a relatively low price. Netflix may be available worldwide, but it is far from perfect. The subscribers have been faced with issues like Netflix shutting down in schools and offices because of their bandwidth consumption. Some Netflix subscribers have even complained of limited access to their accounts when they are traveling. On the off chance that they don't really run into any of these issues, they most likely have experienced limited access to Netflix libraries for their location. Geo locking content is one of Netflix's annoying features they use to protect their interests and avoid violating copywriting laws.
Although the streaming service has incredible security protocols in place, there are straightforward and relatively easy ways to get around some of the restrictions Netflix places on its content.
A Simple Way to Change Netflix Region
Specific content services like Netflix, YouTube, and certain games are usually blocked because they are the ones that take up a lot of bandwidth. Meanwhile, schools or companies may decide to block Netflix from running in their buildings to avoid distracting students and workers.
The easiest way to get around this little restriction is to use a VPN, which is able to change the area of Netflix when the VPN server is connected.
VPN, which stands for "virtual private network," allows you to establish a private connection on a less private network by creating an encrypted tunnel between your computer and the Internet. When you use a VPN, you can select the country you would like to access the internet from. The VPN sends your traffic through a server in that country, and you access the internet not with your own IP address, but with the IP address of that VPN server.
By hiding your IP address, your online data will be protected by the encrypted tunnel created by this service. Thus, you can bypass all-region restrictions and access the network in any country you want.
The detailed steps are provided below to change your Netflix region using a VPN, with SkyVPN as a sample.
Step 1. Download SkyVPN for FREE on any of your devices, iOS or Android, computer, or phone.
Step 2. Install SkyVPN, launch it, and select a country server where Netflix is available.
Step 3. Tap the "Connect" button and open Netflix.
With VPN successfully connected, Netflix content will be available instantly.
Can I Change Netflix Region without a VPN?
For years, Netflix users outside the US have used a VPN or a different mobile app to stream American content. That is because the US library of content contains many more titles than other versions. Unfortunately, instead of banning VPN users, as Netflix announced that it was going global, the company announced that it would make efforts to block users from viewing content outside of their regions. As promised, that has happened.
However, there is another option. If you want to view content from other regions, you can still use a Smart DNS service. What does it do? The Smart DNS service will change your computer's settings to make it appear as if you are in a different country. However, it's only part of the connection that is routed (just enough to hide your location) the rest takes place directly between the web server and the client device.
Now obviously you lose the protection of the encryption, as Smart DNS offers virtually no security. However, it also means that there's little speed drop as most of the connection takes place as normal. In addition, it is much easier to set up and requires no specific software components at all. All you need to do is to change from a standard DNS server to a Smart DNS server and the system will work as long as you have a subscription. But you need to know that Netflix is so powerful in blocking that even some VPNs are not perfect for going over the wall, let alone other products.
That is to say, VPN is the most straightforward, cheapest, and easiest to operate tool for changing Netflix region, not Smart DNS that cannot protect your privacy.
Is It Illegal To Use a VPN for Netflix?
Yes. Currently, it's completely legal to use a VPN to watch Netflix in most countries. The only thing that may cause you an issue is if you're using it in a country that restricts the use of VPNs, such as Russia, Iran, or China.
But apart from that, it is legal to use a VPN to access any website, including Netflix and other streaming sites.
Technically, it is against Netflix's rules to use a VPN to watch its content in other countries. But this doesn't make it illegal. And if you do get caught, there shouldn't be any panic. Netflix has no habit of actively closing accounts, even after repeated use of VPNs. After all, users are still paying for a Netflix subscription, even if they use it to access content in another county.
Netflix can sometimes detect whether you're using a VPN so as to finally ban your VPN, which is called Netflix VPN ban. But if it finds it, it will simply display a message informing you that you won't be able to watch any content before disconnecting from the VPN. Therefore, you won't be able to watch anything on the foreign version of Netflix. But you won't face any more serious consequences.
Some people may worry that using a VPN to watch Netflix is equivalent to stealing. But since you have already paid for the content through your monthly bill, you're not infringing any copyright law.
Why Should You Use SkyVPN to Unblock Netflix Region Restrictions?
There are several great VPN services on the internet; however, only a few of them work with Netflix and have that kind of bandwidth and speed because of the blocks from Netflix. Here are some of the benefits of using SkyVPN for a better streaming experience on Netflix.
It just works with Netflix.
SkyVPN is very good at changing the Netflix region, which is verified by millions of SkyVPN users. In addition, you also need to know that SkyVPN also has a dedicated streaming server, which can be more targeted to meet the streaming needs, so that you can break the region restrictions more quickly and watch video screens more smoothly.
It can be used for a lot more than just Netflix.
While the price of a new VPN subscription for Netflix might be too steep to justify. Most subscribers forget that it can be used to encrypt internet traffic and protect their personal information.
It can also be used on other region-specific service providers.
Netflix might be one of the most popular content makers with geo-locked access, but they are not the only company that prevents people in specific locations from using their programs. With SkyVPN and a little bit of tweaking, you can access games like Fortnite, Overwatch, or access websites like Hulu, Netflix, Redbox, and HBO.
It is rated by TechRadar as Budget-Friendly and Super-Fast.
TechRadar, a professional third-party organization, is the largest UK-based consumer technology news and reviews site. Backed by the weight of technology publisher Future plus objective test data from the TechRadar Labs, TechRadar's verdict on SkyVPN is:
SkyVPN has plenty to like: a free plan, low prices, great speeds, access to geo-restricted services, and support for torrenting (albeit not on all servers). However, we slightly resent the absence of manual installation options for non-mainstream devices, as well as the lack of proper customer support.
Bottom Line
VPN will create a virtual IP address for you, which allows you to choose any country you want to access the Internet. Therefore, you can bypass all regional restrictions and access the Internet in any country you want.
Smart DNS is another tool to change the Netflix region, but Sky VPN will provide you with a more stable, faster, more cost-effective, and more secure encrypted channel to connect to more Netflix content.
Take it easy, it is legal to use VPNs in most countries, except for a few countries that restrict the use of VPNs. You also don't have to worry about using a VPN to watch videos on Netflix will infringe any copyrights, because you are also paying for the content through a monthly bill.
SkyVPN is Budget-Friendly and Super-Fast. It has a dedicated streaming server. What's more, even though it could have more features and extras, SkyVPN still does a solid job with its kill switch and split tunneling.
---
Related Articles: