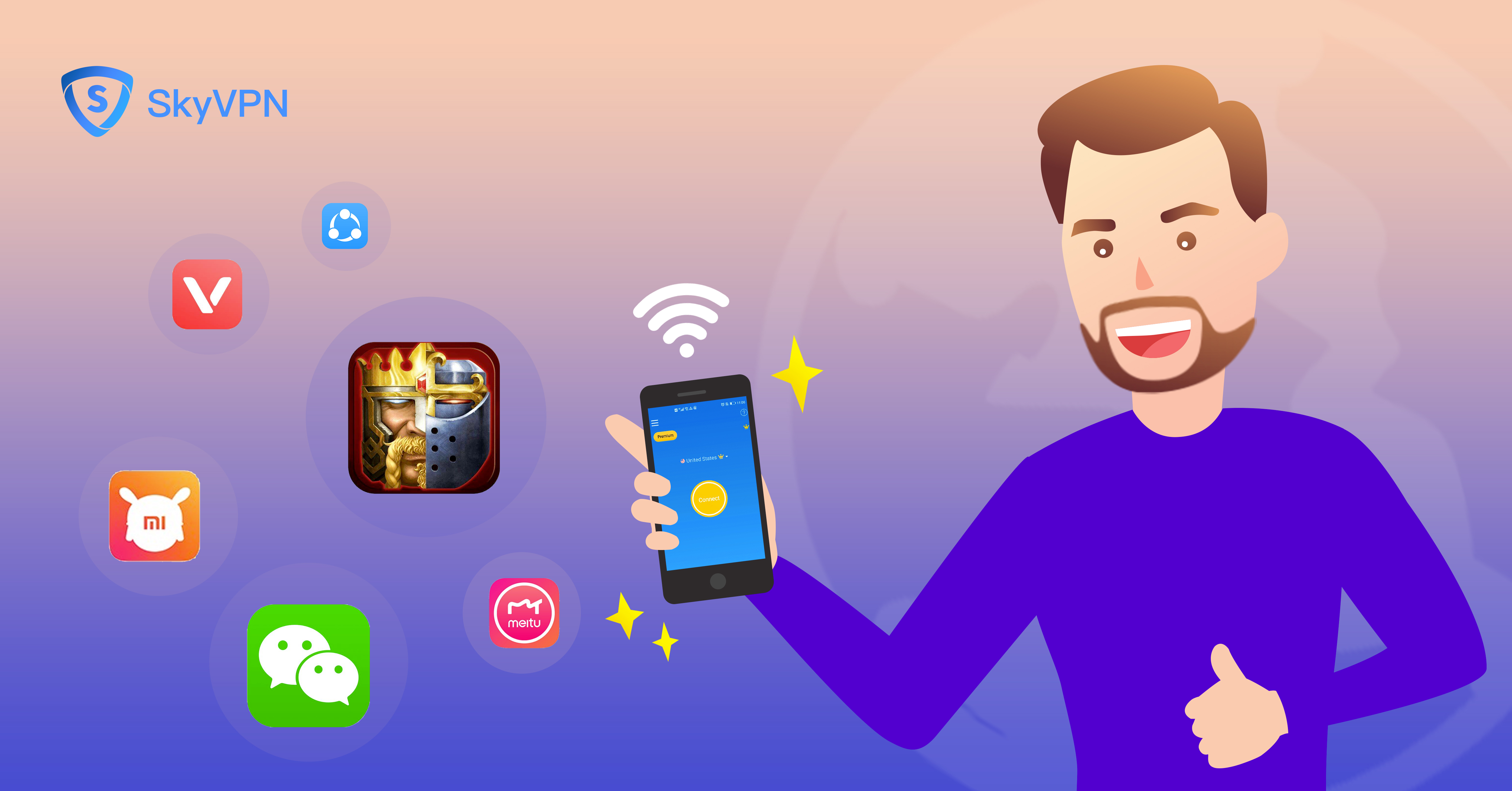 It seems the boundary conflict between India and China is always accompanied by India's ban on Chinese applications. November 24, 2020, saw another wave of 43 Chinese app ban by the Indian government, including some applications owned by Alibaba Group.
As early as June of 2020, as many as 59 Chinese applications have been banned in India with TikTok, WeChat, ShareIT, CamScanner, Helo included because of national security and privacy issues. Now, that can be regarded as the very beginning of the ban.
Then followed another ban on 47 apps in July that comprised applications such as CamScanner, SHAREit, and UC Browser, among others. Then, the most notable ban was embraced in September, covering 118 Chinese applications.
Up to now, more than 200 Chinese applications have been banned by the Indian goverment in all with all fields of people's life concerned. The 43 applications that have been banned this week center on business, dating and entertainment. The following list shows the specific names of the banned applications.
AliSuppliers Mobile App
Alibaba Workbench
AliExpress – Smarter Shopping, Better Living
Alipay Cashier
Lalamove India – Delivery App
Drive with Lalamove India
Snack Video
CamCard – Business Card Reader
CamCard – BCR (Western)
Soul- Follow the soul to find you
Chinese Social – Free Online Dating Video App & Chat
Date in Asia – Dating & Chat For Asian Singles
WeDate-Dating App
Free dating app-Singol, start your date!
Adore App
TrulyChinese – Chinese Dating App
TrulyAsian – Asian Dating App
ChinaLove: dating app for Chinese singles
DateMyAge: Chat, Meet, Date Mature Singles Online
AsianDate: find Asian singles
FlirtWish: chat with singles
Guys Only Dating: Gay Chat
Tubit: Live Streams
WeWorkChina
First Love Live- super hot live beauties live online
Rela – Lesbian Social Network
Cashier Wallet
MangoTV
MGTV-HunanTV official TV APP
WeTV – TV version
WeTV – Cdrama, Kdrama&More
WeTV Lite
Lucky Live-Live Video Streaming App
Taobao Live
DingTalk
Identity V
Isoland 2: Ashes of Time
BoxStar (Early Access)
Heroes Evolved
Happy Fish
Jellipop Match-Decorate your dream island!
Munchkin Match: magic home building
Conquista Online II
Not India alone, Paskistan's Telecommunications Authority (PTA) has banned one Chinese owned social video-streaming app Bigo and given TikTok a final warning to clean up its act. Bigo app is also included on the list of India's Banned 89 Apps to Army Personnel. The decision to ban an app is simply made by the government possibly due to the consideration of politics while it's not easy for ordinary people that get used to it to return to their life without it. Don't worry, however, you can still use the banned apps but you also need to know how to make full preparations for the future.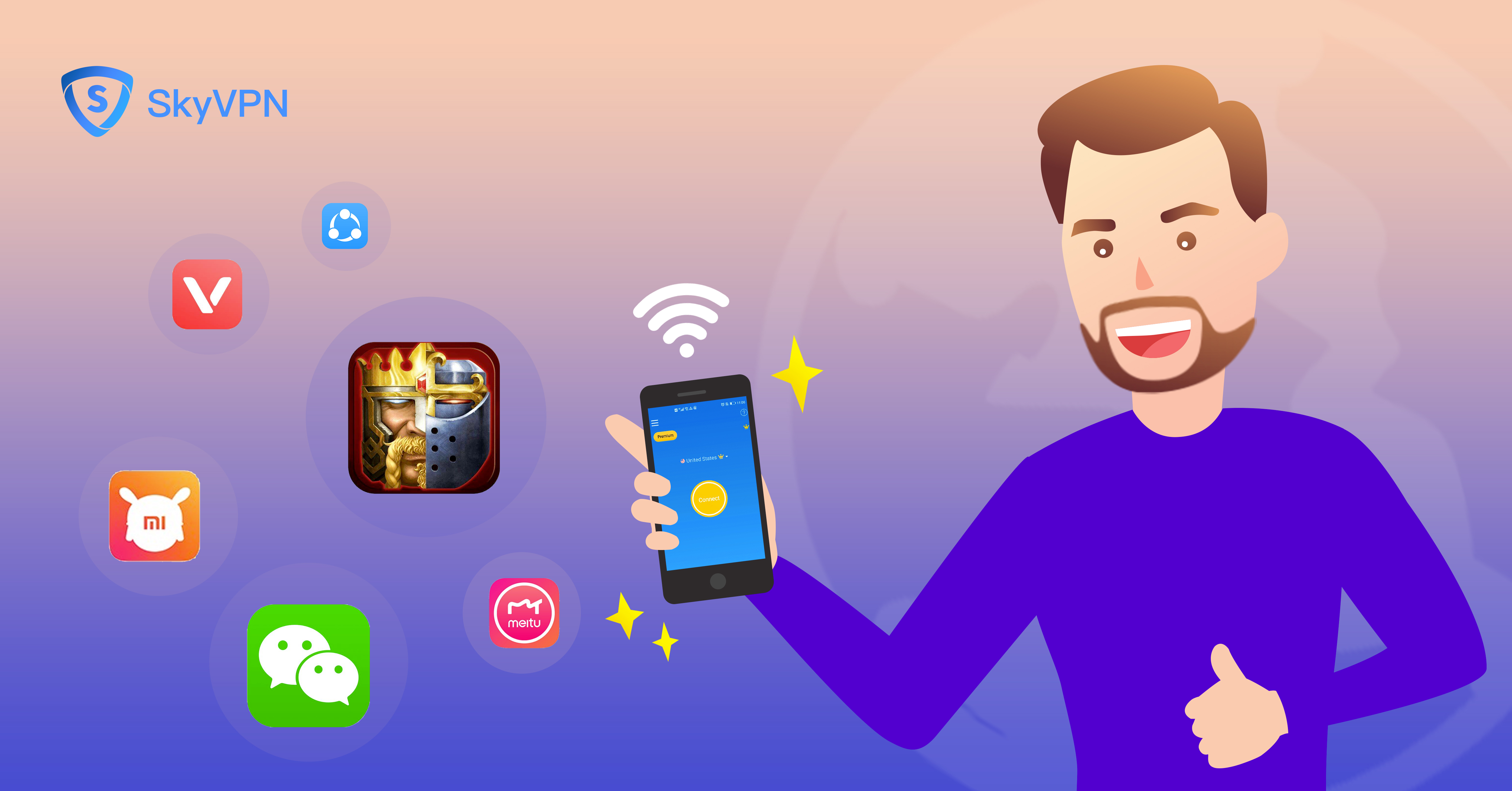 Applications Get Banned but Indians' Life and Business Can't.
The current world has witnessed people's inevitable dependence on smartphones and applications. Due to the numerous functions each app holds, smartphones have become one of the important nodes in people's life and business. It's so common to see people holding a smartphone and focusing on it when we get on bus, metro, or have meals in a restaurant.
In the case of the Chinese apps first ban in India, the 59 apps correlate with all aspects of people's life. In terms of social media, there's TikTok, Kwai, Helo, Likee, etc. In terms of entertainment, there's Clash of Kings, QQ Music, QQ Player, etc. In terms of office work, there's ShareIT, CamScanner, etc. In terms of practical life tools, there's UC Browser, Baidu Map, Shein, DU battery saver, Club Factory, etc.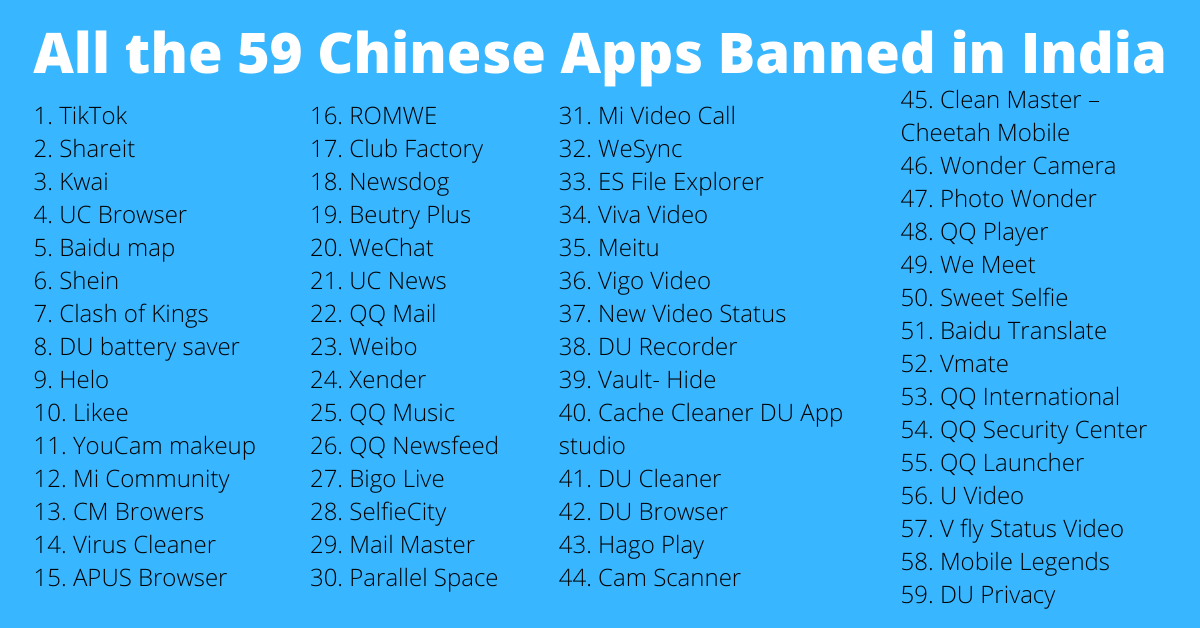 It's easy to make a decision for the government to ban those applications while people have to go through an extremely difficult time without them.
Do you have money in your WeChat wallet? Where will it go when WeChat is blocked in India? Do you have customers or cooperators in China? WeChat is the top real-time communication tool in China. To grow your business in China, WeChat is a must-have tool. However, when it gets banned in India, you'll fail to contact with your Chinese customers or have to opt for an alternative that may be regarded to be inconvenient by Chinese.
In the case of TikTok, a comparison between TikTok stars vs non-TikTok users clearly posted by @VertigoWarrior speaks of their attitude towards application ban.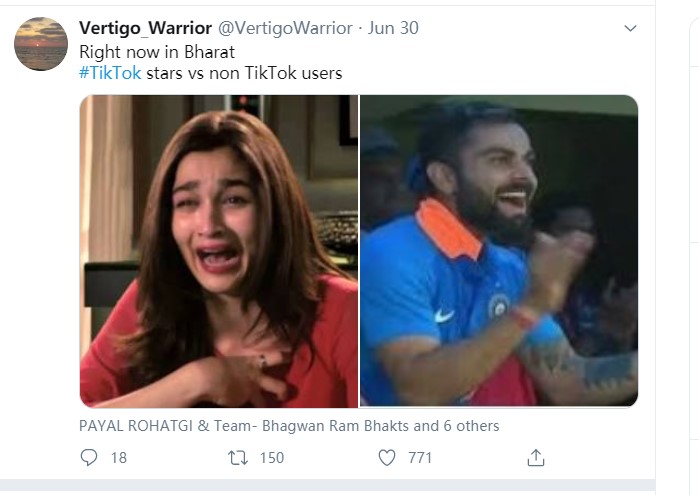 TikTok stars, or influencers, maintain live on TikTok by constantly updating videos or status so that they can have more fans and make more money. According to the statistics on time spent on different applications, it's found that Indians spent 5.5 billion hours on TikTok in 2019, topping the list. If TikTok gets banned, all the influencers' efforts will go for nothing. For them, updating videos isn't entertainment, but it's a job. So, without TikTok, they'll lose their jobs.
Can I Still Use the Chinese Banned Apps in India? Yes!
Since the announcement has been published by the Indian government to ban Chinese apps, the Internet Service Provider or ISP will be soon required to block access to the apps. That means even though they have been installed in devices, they won't be used as long as you're located in India.
However, that's not the end of the story.
You can change your IP address or location by using Virtual Private Network, or VPN to continue using the apps.
As a VPN is used in your device, your true IP address will be masked by another one compatible with the selected location server. As such, you won't be blocked by ISP because VPN has escaped you from local restrictions. Not only Chinese banned apps, all websites and online content will be obtainable as long as VPN gets connected.
VPN provides an end-to-end encryption tunnel from your device to the Internet so that all your online activities can be well protected from being tracked or monitored by any individual or organization.
Therefore, with VPN used, your Indian life and business won't come to a halt.
Try to Minimize the Loss Resulting from Chinese Apps Ban in India.
If you're gaining profit from the Chinese banned applications, your business will definitely suffer from a loss. However, from now on, you're suggested to take substantive measures to minimize the loss.
Withdraw Money from Accounts on To-Be-Banned Apps
If you still have money in the accounts on the apps, empty them. Otherwise, you'll possibly never have an opportunity to withdraw the money.
Find Alternatives As Soon As Possible
There are so many applications on the market and most popular apps have copycats with similar functions. So, there's no need to indulge in a single application. You're suggested to find alternatives to all of your banned Chinese apps from now on.
For example, you can use FAX to replace CamScanner when you need to send scanned files from everywhere. This app is especially needed right now since remote work is suggested and demanded. When Helo and WeChat get banned in India, your communication can be implemented through Dingtone, a free WiFi calling app that simultaneously allows users to send messages to friends.
DO Retrieve Your Files from Cloud of Banned Apps
It's a good idea to back up all your files in the cloud so that they won't get lost and can be reached at any time. However, as the apps get banned, the cloud servers behind them may not be available as well. Therefore, you'd better retrieve your files before the apps go officially banned. If they have already got banned, you still can obtain them with a VPN used. For example, many people use CamScanner to scan files like ID card images, contracts, papers, etc. So it's safe and necessary to convert the files to a safer place so that your privacy won't be compromised.
Learn to Prepare Plan B
Based on the Chinese apps ban event, it can be summarized that you should have Plan B, especially when using applications for the sake of your business. Chinese apps are banned in India this time and what comes next? The US? The UK? Hard to say. The most secure method is to prepare a plan B that can be used as a backup when an emergency occurs.
---