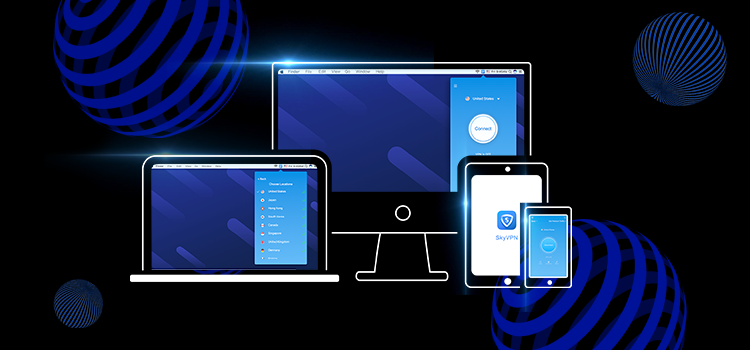 SkyVPN is known around the world for effectively bypassing emergent firewall blocks. But up until recently, it was only available on Android and iOS. Now, Mac users can get the same VPN service with the newly-released SkyVPN for Mac.
Have multiple devices on different operating systems? No problem. SkyVPN users can use the same VPN account on any device running iOS, Android, PC or Mac, at the same time. Most importantly, there is no limit on traffic consumption.
What's Special About SkyVPN?
The VPN service market has exploded in the past few years and there are now a large number of VPN apps available. But SkyVPN is special. What makes SkyVPN different from all the other VPN apps?
SkyVPN is the only VPN app that provides free Premium service. At sign-up, users can take advantage of two different kinds of service:
Basic Service (free, US server only)
Premium Service (unlimited session time, global servers, even faster & more stable connection)
Users can easily earn unlimited premium traffic by spending several minutes watching ads and completing simple tasks. The more ads you watch and the more tasks you complete, the more premium traffic you can earn. You can also earn premium traffic simply by checking in every day. There's no better or easier way to get premium VPN service than with SkyVPN for Mac, PC, Android, and iOS.
Whether you choose Basic Service or Premium Service, SkyVPN has the ability to bypass all kinds of firewall blocks. What's more, the developers of SkyVPN are always working hard to improve their services so that users can maintain their internet freedom. Because of this ongoing commitment to improvement, SkyVPN has earned high praise among all its users.
What Users Say About SkyVPN
"This VPN is best VPN I'unblocks seen. It unblock my school WiFi, allows me to access any website, any app in school any time. And this VPN updates quickly. Sometimes it not working due to school firewall update. But it comes back so soon unlike other VPN, ONCE THE SCHOOL FIRE WALL UPDATED, IT GONE FOREVER. I thought that I will never write a review, but SkyVPN changed my mind. Thanks to the develop team thanks to the free network view"
—-by anastatua – May 3, 2018
SkyVPN for Mac
Want to access any website or browser on your Mac? It is easy to connect to the VPN server with the new SkyVPN for Mac.
SkyVPN for Mac is powerful, fast, and stable…just like the mobile version. But SkyVPN for Mac has several advantages that other VPN services for Mac do not.
Across Multiple Devices
SkyVPN users can log in on Mac with the same account they use on their mobile device. There's no need to create an additional account for your Mac. In fact, one account can be used on 5 devices at the same time. And all 5 devices will share that account's traffic.
Unlimited And Even Free
If users already have a SkyVPN unlimited traffic plan on their mobile device(s), they can enjoy that same unlimited VPN service on their Mac for free. They can surf the internet, watch videos, play games, and much more. All with the confidence that SkyVPN offers the most secure VPN service available.
Get the SkyVPN Mac version for free! Download Now!
About SkyVPN
SkyVPN offers unlimited premium VPN service at no cost for Windows, Android, Mac, and iOS. SkyVPN gives users secure internet connection, anonymous web browsing, and access to any websites and apps. Powered by SkyVPN's robust global VPN servers, users enjoy market-leading smooth connection without spending a penny.