5G free traffic will be soon available on SkyVPN! Simply follow three simple steps (JOIN-SHARE-TAP) and you can earn free traffic with NO EFFORT: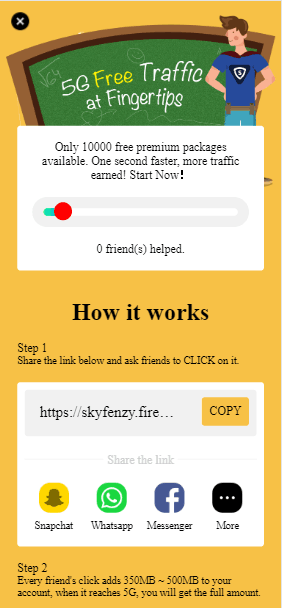 JOIN the event via link on SkyVPN App.
SHARE this event to your buddies! You can share through Snapchat, WhatsApp, Facebook, SMS and more!
When your friends open the link, let them TAP on the page to help you earn free traffic!
Sounds easy right?!
You can get the 5G free traffic package by simply sharing this event to a few buddies!
What's Special about SkyVPN?
Free Premium service
SkyVPN has always been about making it easy for users to earn free traffic. SkyVPN is the only VPN app that provides FREE Premium service.
To access unlimited premium traffic on global servers, and achieve a faster & more stable connection, users only need to spend several minutes in watching ads and completing simple tasks. The more ads you watch, the more tasks you complete, the more premium traffic you will earn!
You can also earn premium traffic simply by checking in every day. There's no better or easier way to get premium VPN service than to have SkyVPN for Mac, PC, Android, and iOS.
Complete Internet freedom (Bypassing all kinds of firewalls)
Whether you choose Basic service or Premium service, SkyVPN will bypass all kinds of firewalls for you. The developing team of SkyVPN is always working hard to fight against firewalls and their updates, in order to maintain the Internet freedom that our users deserve.
These days, more and more schools are restricting students' Internet access. Social media websites and gaming websites are often blocked by school WiFi. Students have been trying to bypass this restriction, but many VPN services are blocked too, leaving little Internet freedom for them on school grounds.
Luckily for students troubled by Internet restrictions at school, the developing team of SkyVPN is always upgrading and finding new ways to penetrate firewalls. SkyVPN is able to lift Internet restrictions and unblock social media websites blocked by school WiFi.
SkyVPN will never disappoint you. It stands strong against school firewalls and cater best to social media lovers who are let down by school restrictions and other VPNs.
What Do Users Say about SkyVPN?
"I love this app so much!!! Just like any other teenager, I love social media and our WiFi blocks it. So connecting to the school's WiFi with VPN I have amazing connection in any class all day! Also it's free so that's a major plus."
— by Gossipgirlbbb, May 7, 2018
"So Xvpn stopped working in our school. I don't know why and it doesn't work. I've tried others as well but this one seems to be the only one that actually works so thanks."
— by Ace.fammmm, June 24, 2018
"I had a great experience with SkyVPN". She wrote in a review for SkyVPN, "I never write reviews but this app has been life changing and pretty much gets me through high school." SkyVPN will be a great friend for you throughout your school time.
— by Mbaquer, July 3, 2018
SkyVPN will continue to bring free, fast, stable and firewall-penetrating VPN service to all its users. More promotion activities will be launched soon! Stay tuned!