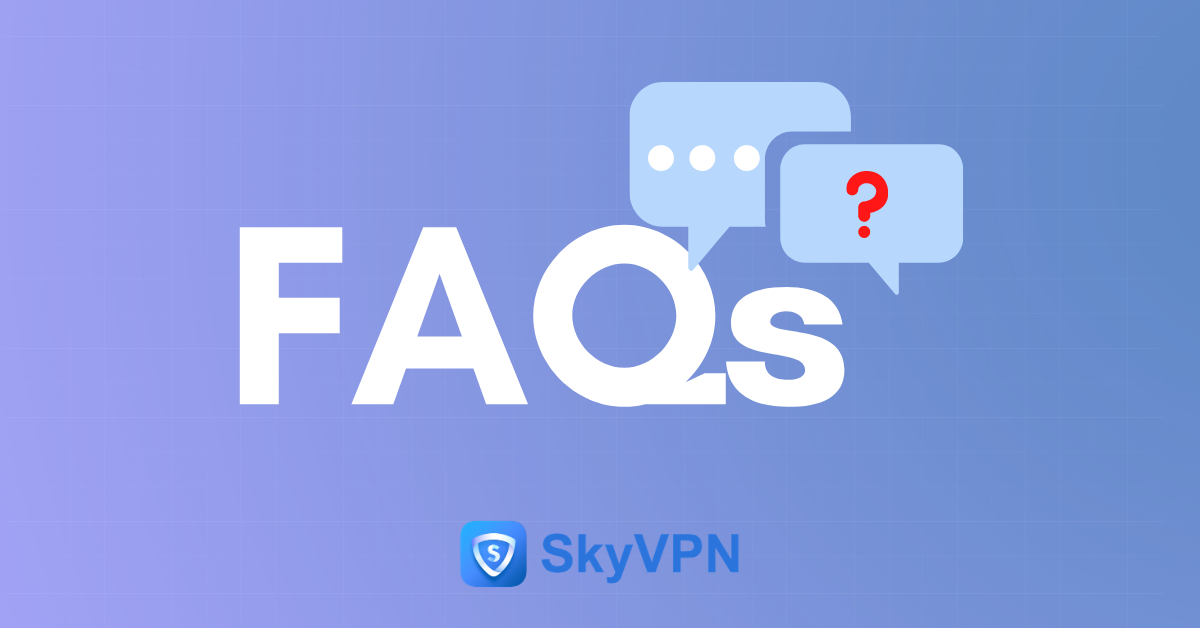 SkyVPN is a Virtual Private Network (VPN) that can be used as an app on smartphones, PC, and other devices with operating systems of iOS or Android. Up to now, SkyVPN has been used by millions of users around the world due to its Friendly Budget and Super-Fast Speed summarized by TechRadar.
It's quite simple to use SkyVPN. Here's a tutorial that will show you how to download, set up, and use SkyVPN on Android devices. Also, a few tips on how to better use SkyVPN for free will be introduced at the end of this article. You can NEVER miss that!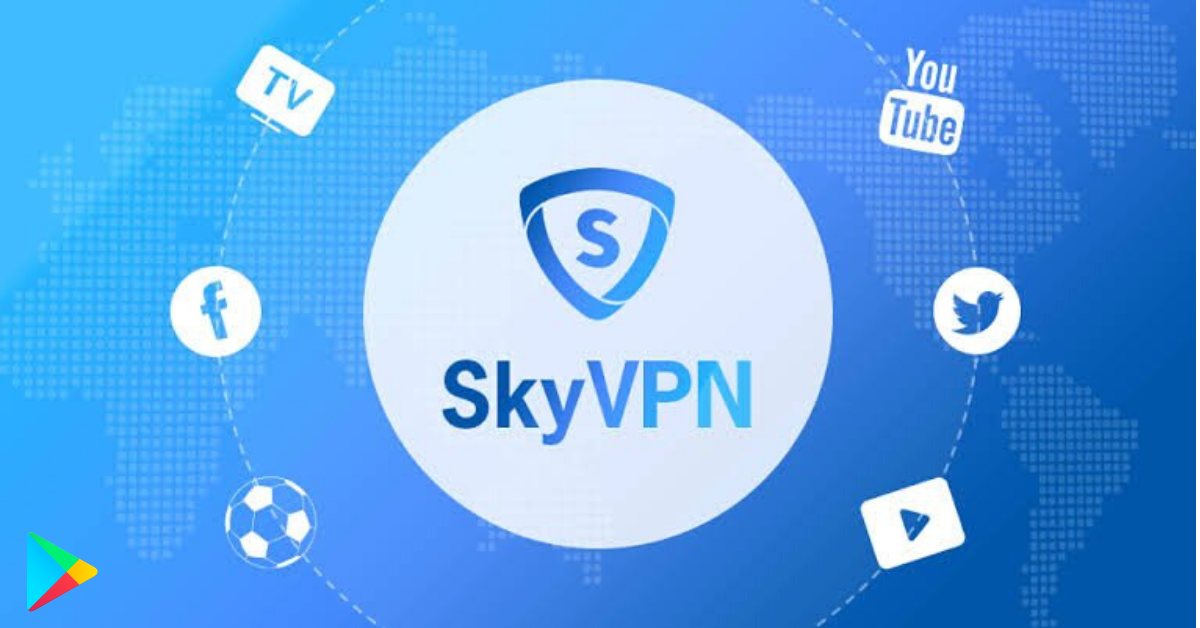 Step#1: Download SkyVPN from Google Play
As you access Google Play App Store, search "SkyVPN", then choose the first app appearing. Or, you can directly click this link to enter the SkyVPN page on Google Play.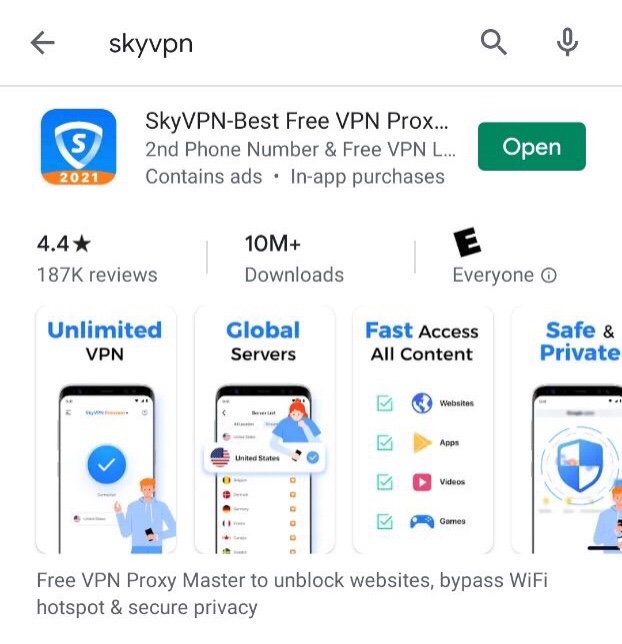 Step#2. Use SkyVPN App on Android Devices to Protect Your Online Privacy and Security in 2022
Register and Login
After opening the SkyVPN app, a welcome screen will show up. Click "Start SkyVPN" to continue.
A VPN connection request might be prompted, click "OK" / "Allow" to continue. Tap the sidebar menu on the upper left corner to enter the menu of features of SkyVPN.
For first SkyVPN users, tap the "Sign Up" button to register a SkyVPN account using a valid email and strong password.
For already SkyVPN users, you should tap the "Log In" button to enter your SkyVPN account by filling your email address and password. If you forgot your SkyVPN password, this article will give you instructions.
As you've completed registered and log in SkyVPN, you'll see the following image as you tap the sidebar at the upper left of the interface, with your email address and SkyVPN ID displayed.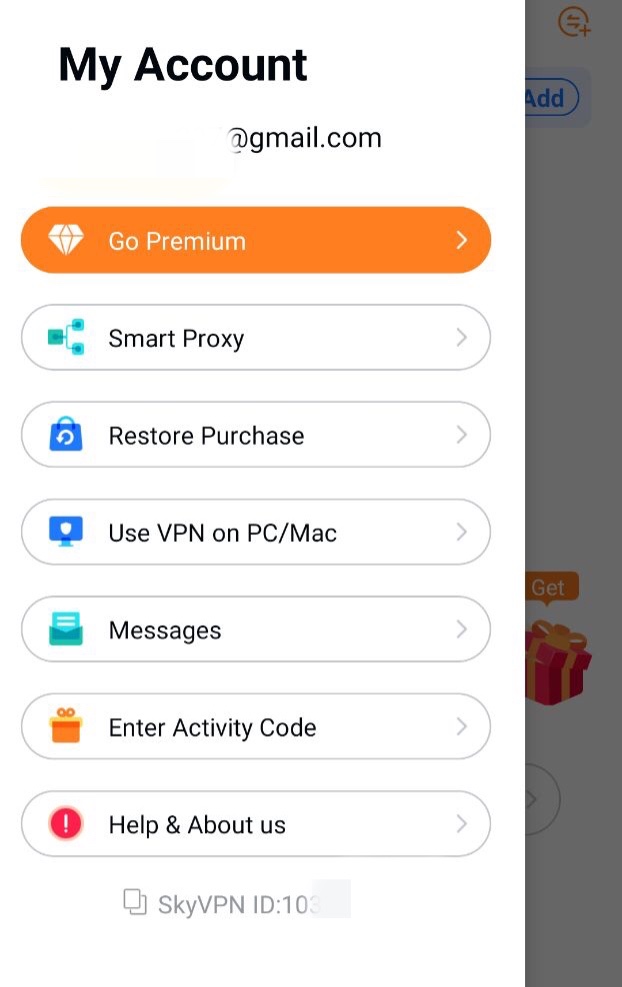 Connect and Disconnect
To connect to a VPN server location, tap the "Connect" button at the center of the interface.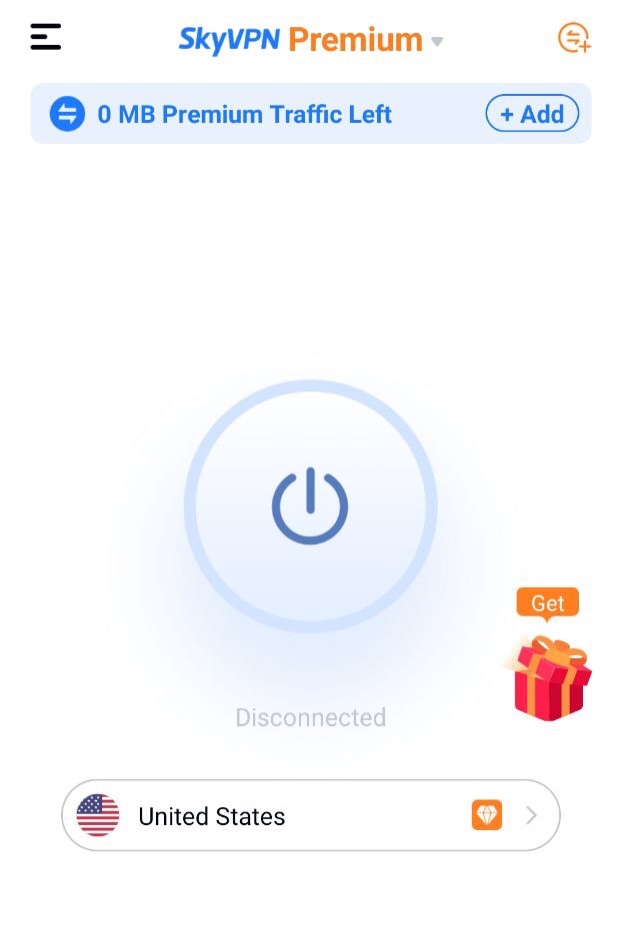 Once you see the click label on the app screen, you can begin surfing with freedom and security!
To disconnect from the VPN server, tap the "Disconnect" button while the VPN is connected.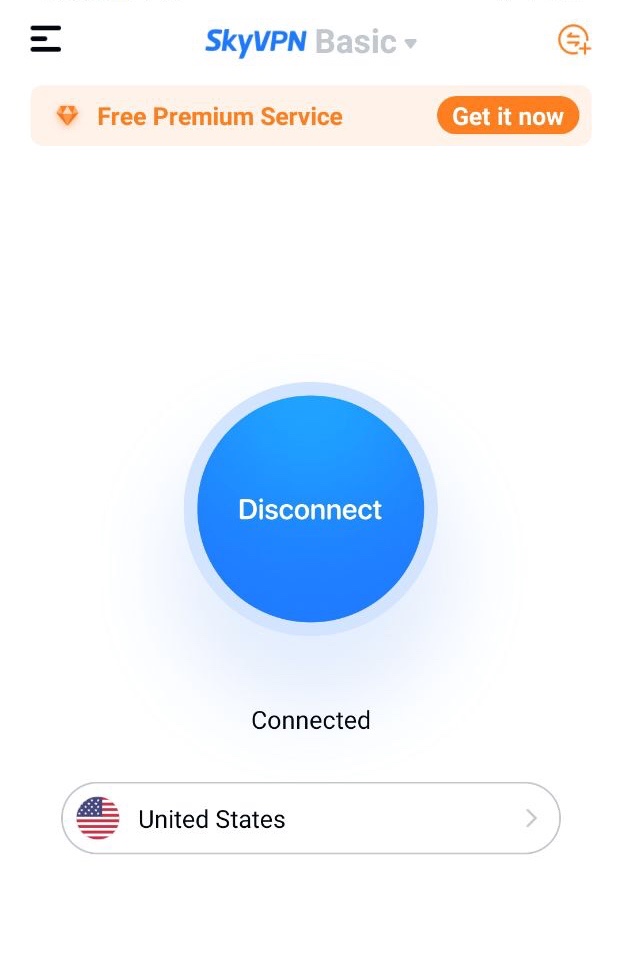 You will know you are disconnected when the 'VPN is OFF' message is shown.
Basic Mode vs. Premium Mode
After successful login on SkyVPN, you can straightly use it by clicking the "Connect" button at the center of the interface. By default, the Basic Mode is usually used first. SkyVPN Basic mode is offered to let you use it for free and free traffic is available for you to consume while you stay online with SkyVPN on.
When Basic traffic is almost consumed up, the Premium mode will be switched to. The difference between Basic and Premium service can be shown below.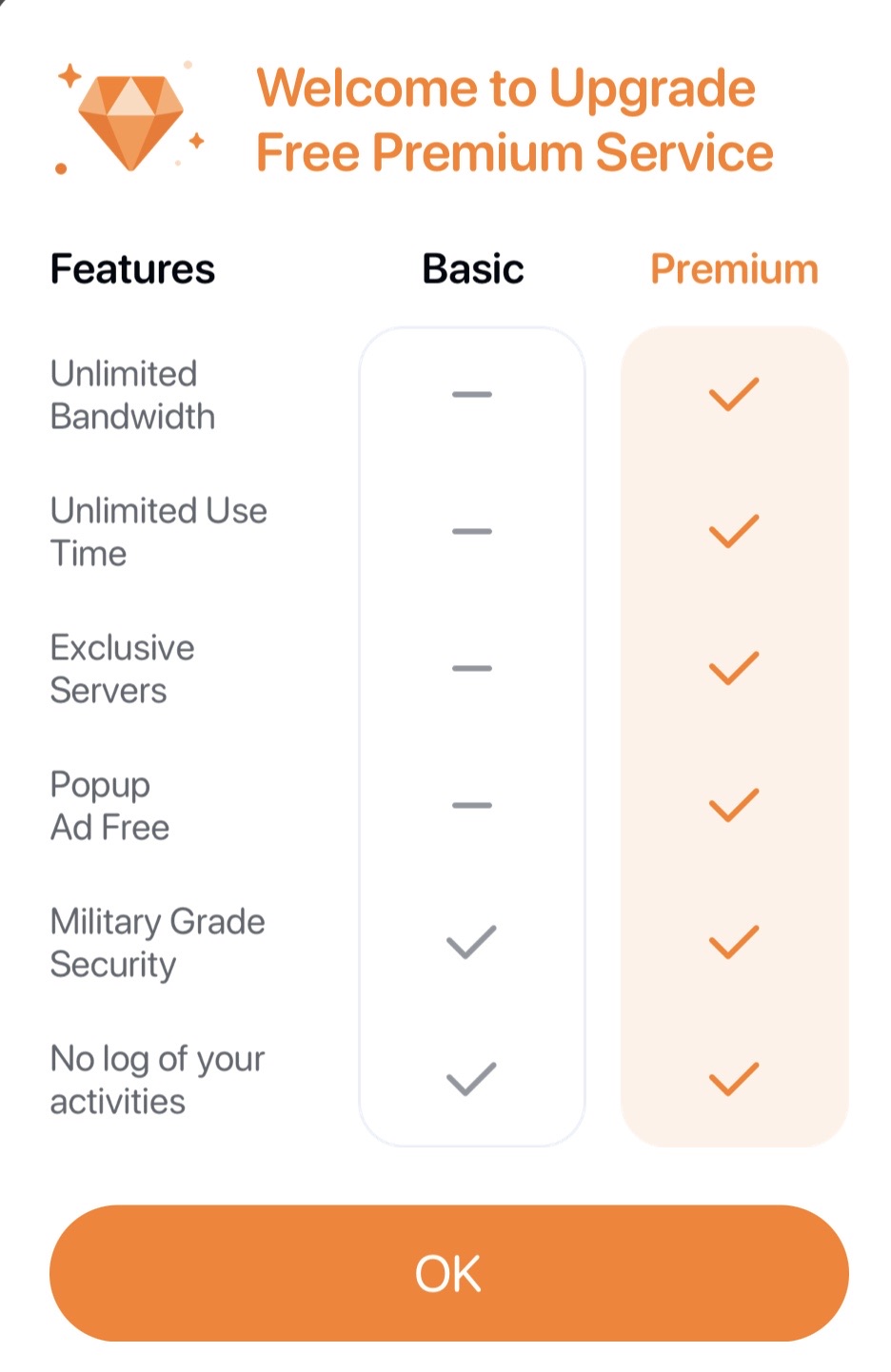 Use Premium Service Free on SkyVPN
Although Premium service is better than the Basic mode, it doesn't mean that you won't be able to use it unless you pay for it. Totally wrong!
You can use Premium service for free as well even though it's called "Premium".
The logic design of SkyVPN Premium service is the root reason for SkyVPN to top the list of all VPNs labeled as "free VPN".
Users are allowed to earn Premium traffic by completing numerous tasks just within this app. All the Premium traffic will be stored in your Premium account and it won't be missing unless you use it to bypass local restrictions or hide your IP address.
You're allowed to earn unlimited Premium traffic through the following "FREE" methods:
Daily Check-in (25~75MB per time)
Feeling Lucky (25MB per time)
Watch Videos (25MB per video)
Invite a Friend to use SkyVPN (1GB per friend)
Special Offers (500MB per offer)
You can tap"+Add" on the upper right corner of the main interface to enter the page where you can see the tasks above.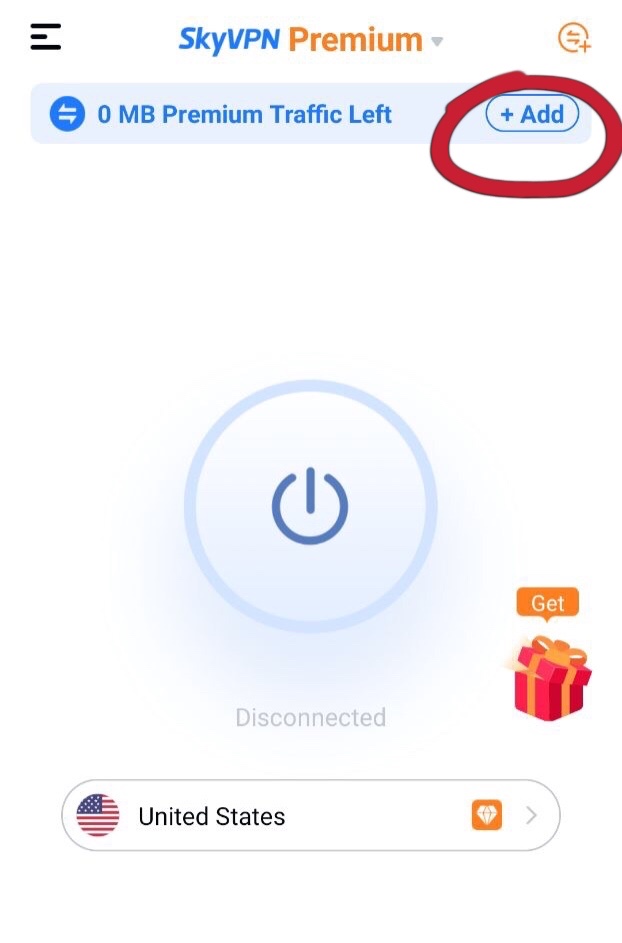 Unlimited Plan with No Ads (Need to Pay)
If you don't have much time to earn Premium traffic or you think its time-consuming, you can choose to pay for the Unlimited Plan on SkyVPN.
You can tap the "crown" icon with "Go Unlimited" to directly go to your purchase.
It has the following advantages:
Unlimited Usage
Fastest Speed
Worldwide Locations
Up to 5 Mobile Devices
No Ads
You're allowed to have a 7-day free trial before real purchase.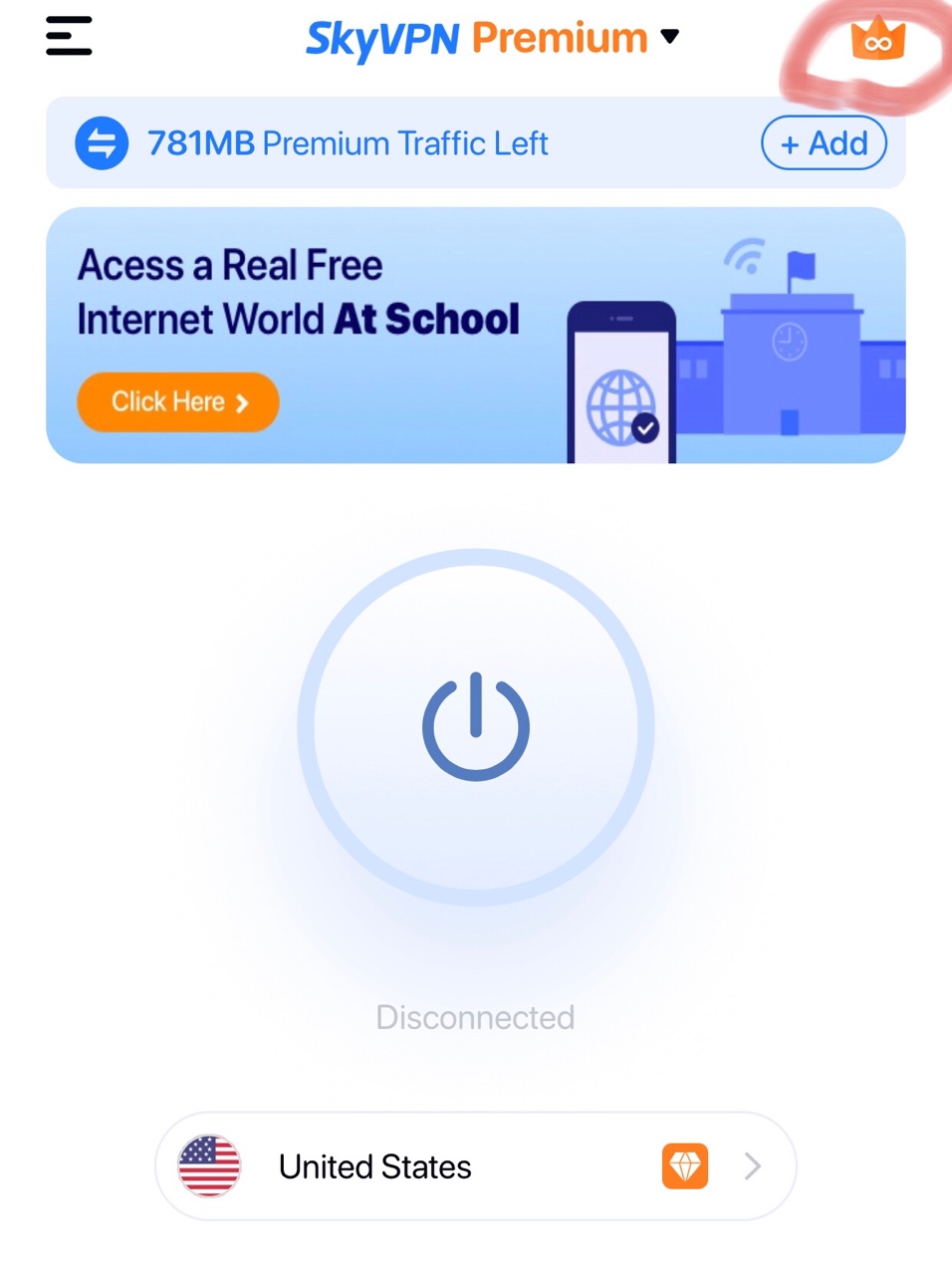 How to Tell SkyVPN the Issues You've Encountered in 2022?
If you encountered any issue using the SkyVPN app, you could submit the issue report to us.
Tap the sidebar at the upper left corner of the interface and go to the menu where click "Help & About us" to enter the feedback page where you can submit your issue while using SkyVPN, which is the quickest solution to your issue when VPN isn't working.
VPN is the easiest tool to protect your online privacy, to stop devices from getting hacked and your ISP from snooping on you. You can use a VPN at any time when you worry about your online security and privacy.
For more issues you'll possibly encounter as you use SkyVPN, you can refer to this FAQ page and SkyVPN Blog.
---