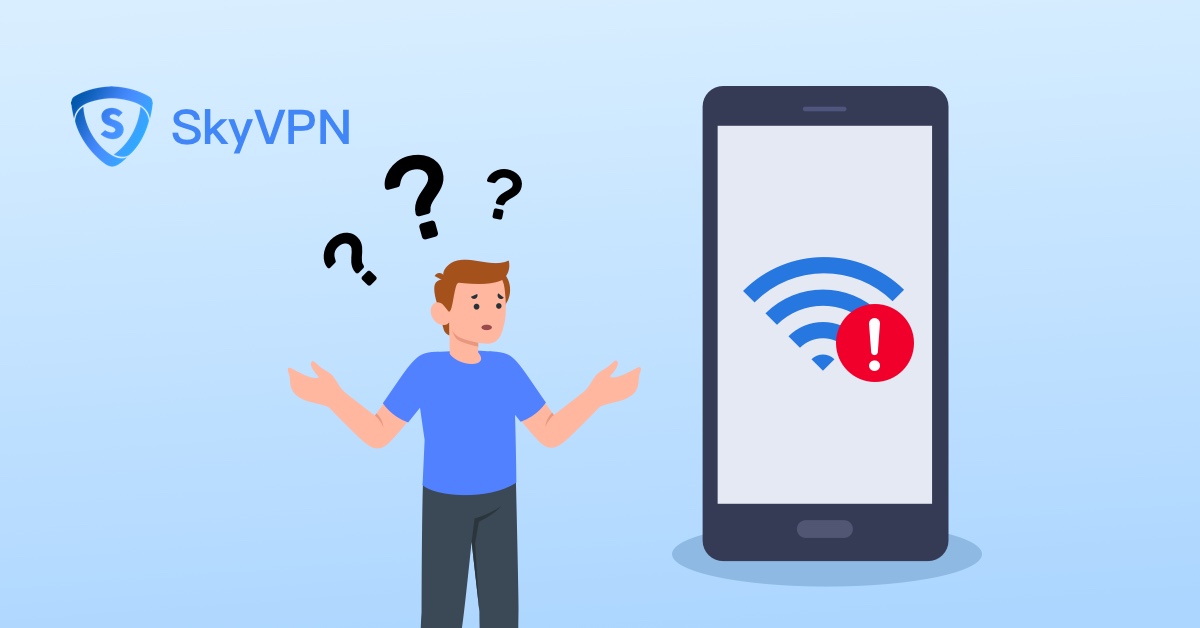 It must be irritating when your VPN fails to work as it should. In such a case, you won't be able to stream your favorite series on Netflix, to share your status on social media, or to access the Internet you need.
Although a VPN is easy to use with one tap, it will still let you down when problems are met during your application. This article will cover the most commonly met issues when a VPN is used and provide a guide on how to quickly solve them.
Issue#1. Your VPN runs at a low speed.
A low speed is one of the leading issues a VPN might suffer from. You should clarify that a VPN isn't created to slow down your network. However, if you suffer from speed drops, the following tips should be read.
Clarify Why You Should Use a VPN
Different network speeds are called for by different application purposes. The speed you call for bypassing internet censorship and WiFi restriction unblocking is not the same as that you call for Netflix streaming. When it comes to the speed for Netflix streaming, different speeds are also called for when different video qualities are watched. For example, a standard definition video calls for a speed of 3 to 5Mbps, high definition 5 to 9Mbps and 4K 25 to 30Mbps. Therefore, you should stop from being so anxious about your network speed or blaming your VPN service. You should clarify your network application purpose and find out the real cause of your slow network.
Check Your Network Package
You can never expect for a 30Mbps speed with a VPN used if your network package is only limited to 5Mbps. Before blaming your VPN for a low speed, you should check your network package first and figure out the top speed your network speed can reach. If you usually call for a high network speed, a fast network package should be used.
Change a VPN Server
Your VPN service provider usually prepares you a list of VPN server locations and different VPN servers should be tried for an optimal speed.
It can't be denied that the geological distance between your location and the VPN server influences your VPN running speed. The farther you stay from the VPN server, the more time it will take to transmit data packets.
You can also select a VPN server based on your application purpose. For example, the SkyVPN premium server list consists of those especially for Netflix streaming such as Netflix-US server and Netflix-UK server. You can choose either one based on your specific demands.

Use a Faster VPN Protocol
Some protocols are more loading than others, which means they are more used by VPN service providers than others. As a result, the traffic will be heavier with loading protocols used, such as OpenVPN and SSTP.
Therefore, it's necessary to switch to lighter protocols like IKEv2, L2TP/IPSec, and SoftEther if you expect higher speed.
Use UDP Instead of TCP
If your VPN service provider uses OpenVPN protocol only, then you can switch to UDP to replace TCP for a higher running speed. TCP runs at a slower speed than UDP because of its error corrections. Without error corrections, UDP runs faster.
Change Network Port
As your device communicates with the VPN server, a network port will be used. The VPN app usually allows you to have access to the network port. If the VPN server fails to have access to your network port, bad communication will be achieved with a low speed. Sometimes, your Internet service provider or ISP also slows down all the traffic through your network port. They just want to throttle your bandwidth. Try switching different network ports so as to get the optimal network speed.
Whitelist VPN on Your Security Software
Sometimes, your VPN connection may be interfered by your antivirus software or firewall so that a lower speed is met. The software on your device carefully checks each data packet sent from and to the VPN server, which will take some time. You should configure your software to permit your VPN service to be on its whitelist so that both software and VPN can work on your device simultaneously.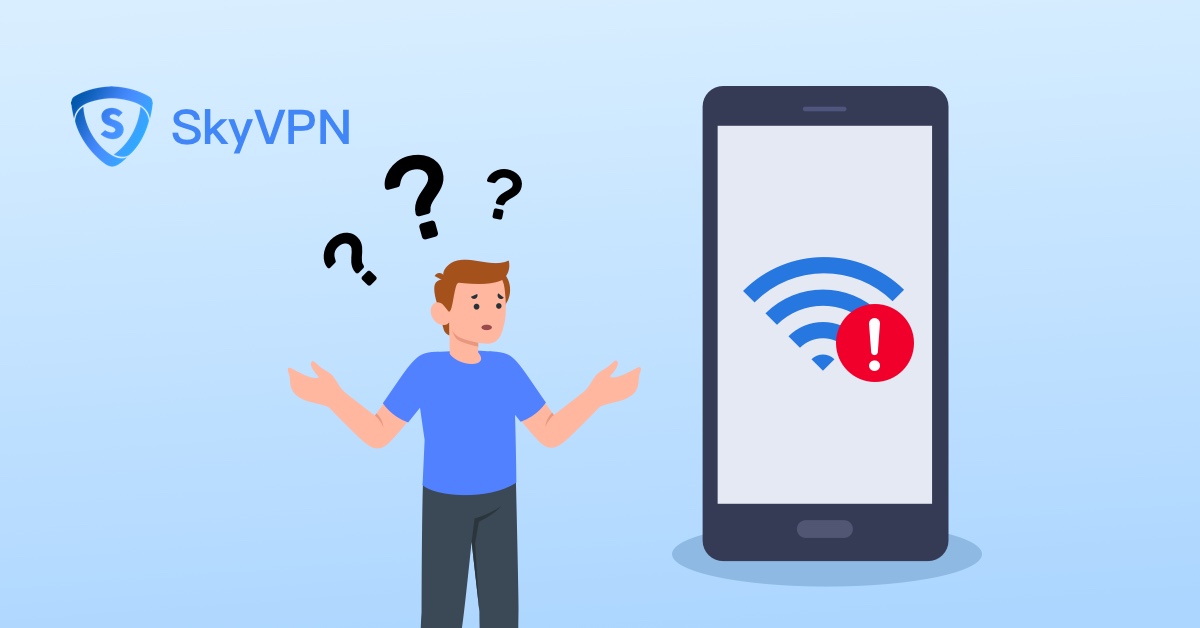 Issue#2. Your VPN fails to be connected.
Even though you've tried many times, your VPN still fails to be connected. Here are some solutions to that issue.
Check Your Network
First, you should check your network to ensure your device has been successfully connected to the Internet. Don't believe too much the network connection icon on your device. You shouldn't believe that unless you can get the Google homepage on your browser.
If your network fails to work, the following tips can be tried:
Disconnect your WiFi and reconnect it;
Restart your router;
Check the ethernet cable to see whether it's been successfully connected.
If the above solutions don't work, contact with your ISP for more help.
Check Your VPN Account
It depends on VPN services. When it comes to SkyVPN, you can use it at any time even if you don't log in to any account because SkyVPN can be used for free.
Some VPNs don't work if you don't log in to your account. If you buy a VPN service, you should use your purchase account name and password to log in. Remember: use a strong password to protect your privacy.
Restart or Reinstall Your VPN App
App error may stop your device from connecting with your VPN server. Restart your VPN app to avoid app errors can make your VPN work again. If it doesn't work, you can uninstall your VPN software and reinstall the latest version to make it work.
Switch to Another VPN Server, Protocol or Port
Sometimes, the reason why your VPN fails to be connected lies in the VPN server, protocol, or port to use. It's a good idea to switch to another VPN server or VPN protocol, which will possibly solve your problem. In addition, your ISP may throttle your traffic going through the port you're using and it's also suggested to change to another port.
Make Sure You're Qualified to Connect that VPN Server
All VPN servers aren't created equal.
It's important to clarify whether you can use the VPN server before connecting it. For example, free users on SkyVPN have a limited number of VPN servers to use. When certain VPN servers fail to work, think about your qualification.
Check Your Router
Sometimes, your router stops your device from connecting with your VPN server. If you don't enable Passthrough for specific VPN protocols, the VPN traffic won't pass through your router, leading to connection failure.
You need to check the admin account on your router and check the Passthrough settings.
Issue#3. Your VPN constantly crashes.
If your VPN constantly gets disconnected, it'll be risky to expose your online identity to the Internet, which means your privacy will be "naked" online. To fix this issue, you can try the following solutions.
Reconfigure Your Firewall
It's possible that your firewall slows down your network speed or even disconnects the connection between your device and the VPN server. Some firewalls aren't compatible with your VPN unfortunately. Put your VPN on the whitelist of your firewall software and they'll work together without any issue.
Switch to Other DNS Servers
Sometimes, the default DNS server fails to work or works unstably. You can switch to other DNS servers for optimal performance. SkyVPN features DNS leak test to track any online risk at the first time.
Enable Kill Switch
The worst situation is not your VPN constantly crashes but you don't know when your VPN fails to work. It's so dangerous that you will probably use the Internet without any protection. You thought you were using the Internet in a secure way but the truth is you are not. The kill switch can directly halt your network as long as your VPN fails to work. Once your VPN reconnects, your network will be recovered.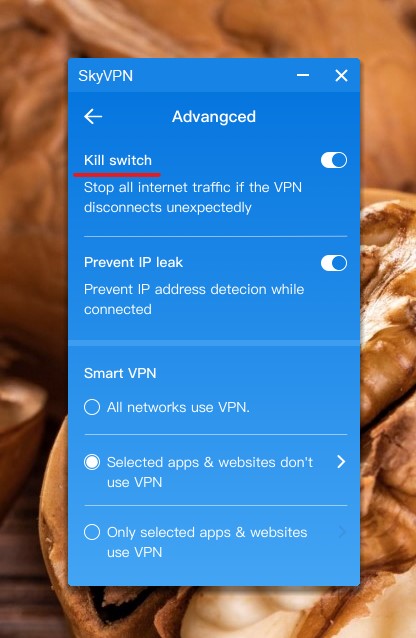 Switch to Another VPN Protocol
If a massive VPN protocol, like OpenVPN, is used, your VPN connection may constantly crash, which is especially true when your CPU is not encrypted. You can switch to SoftEther, L2TP/IPSec or IKEv2.
Change a VPN Server
Some VPN servers don't work stably so your VPN connection constantly crashes. It's a good solution to that if you change your VPN server. Changing a VPN server is a cure-all to all VPN issues.
If your SkyVPN doesn't work, what's the quickest solution to it?
We've been striving to provide you with the best product and service but it doesn't go as is planned. If your SkyVPN doesn't work and all the above solutions have been tried and they all fail, then what should you do?
You can report your issue through your SkyVPN app by conforming to the following steps:
Report Your Issue from Mobile
Step#1. Open SkyVPN on your mobile, iOS or Android.
Step#2. Tap the three slashes at the left upper corner to enter the menu.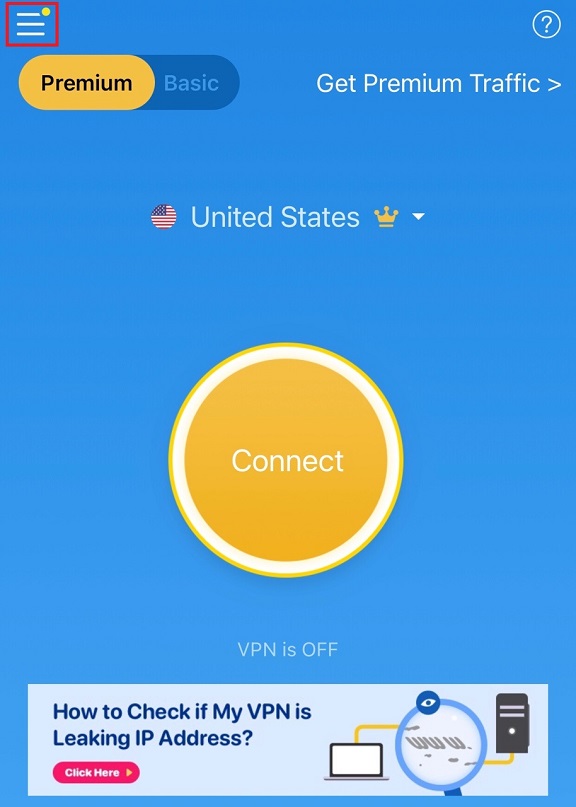 Step#3. Select the "Help & About Us".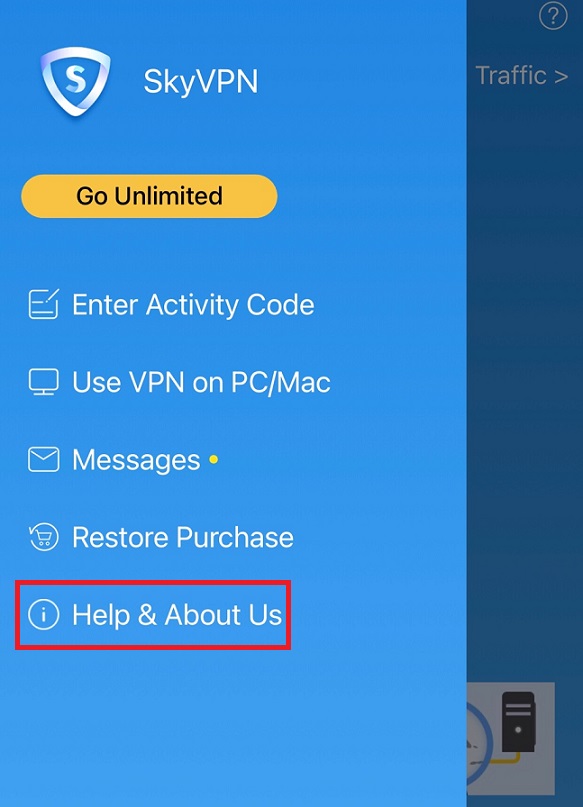 Step#4. Tap the "Report an Issue or Feedback" to enter the issue-reporting page.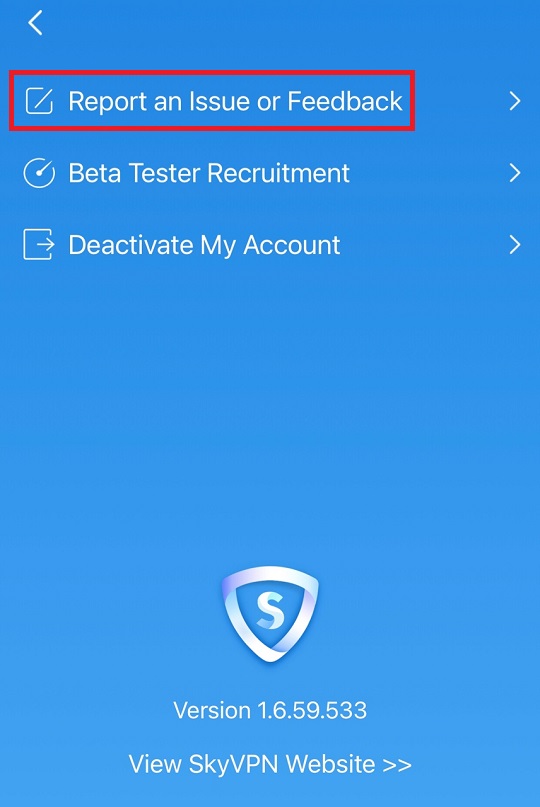 Step#5. You should select question type, describe your issue and tap the "Submit" button to send it out.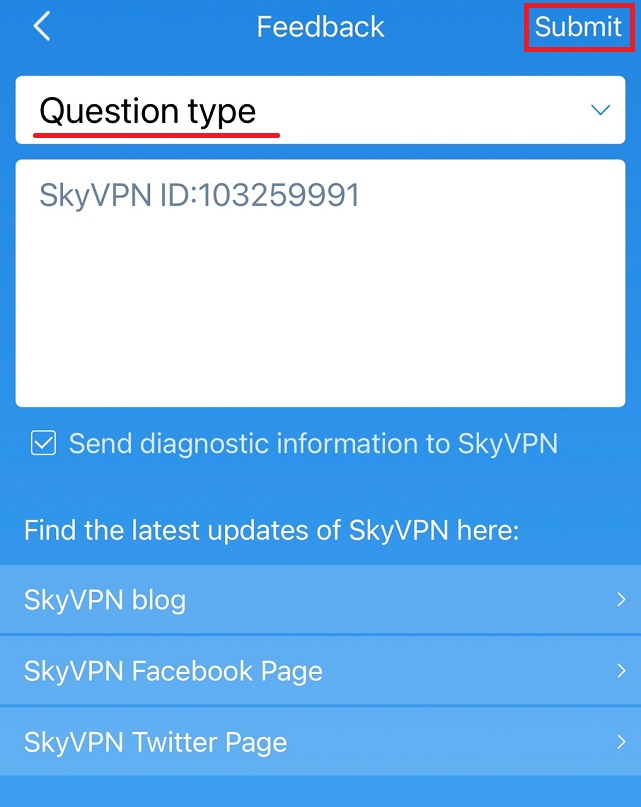 Then, SkyVPN staff will receive your issue report and reply to you at the first speed.
Report Your Issue from Computer
Step#1. Open SkyVPN on your computer.
Step#2. Tap the three slashes at the left upper corner to enter the menu.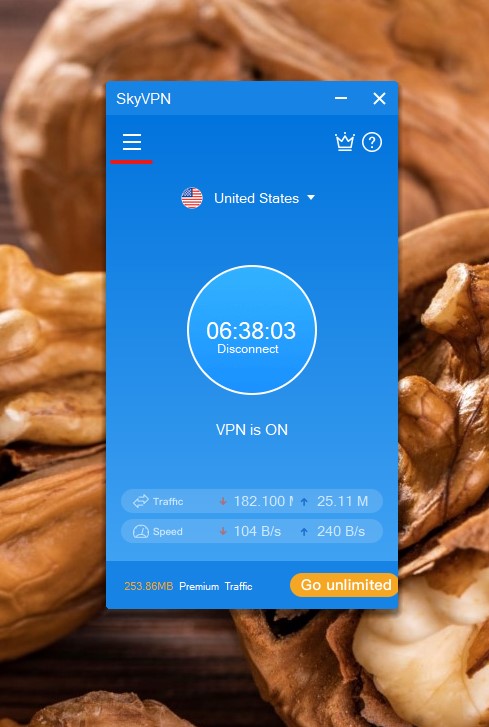 Step#3. Select the "Report".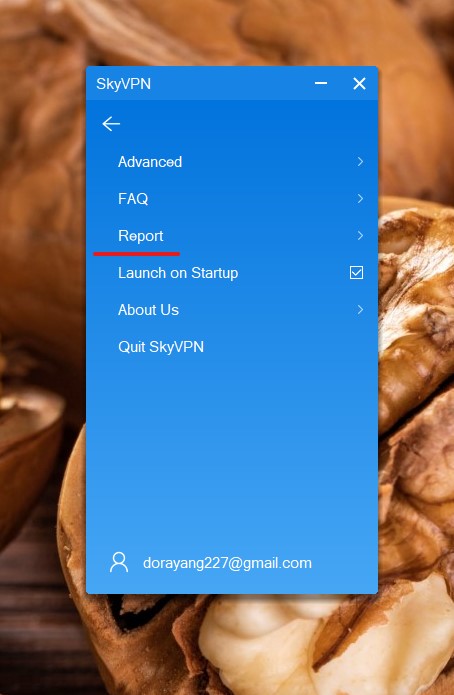 Step#4. You should select question type, describe your issue, fill your email address and tap the "Submit" button to send it out.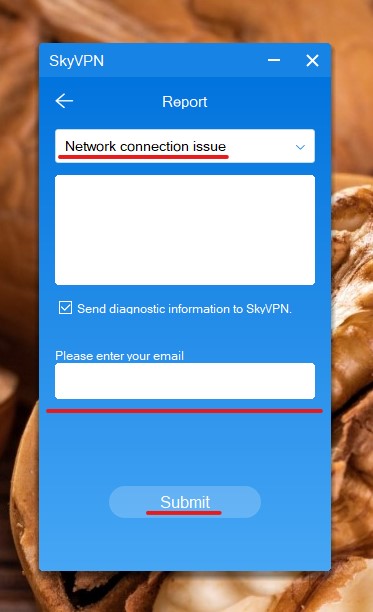 Why Reporting Your Issue is the Quickest Solution on SkyVPN?
As you submit your issue through reporting, SkyVPN staff will receive full information about you as you use this app like what device you're using and your SkyVPN ID so that your identity as a SkyVPN user can be quickly tracked.
As your email address is provided, the replies SkyVPN staff provide will be sent to you at the first second so that your issue will be dealt with at a high speed, just like a SkyVPN running speed!
FOLLOW US
---