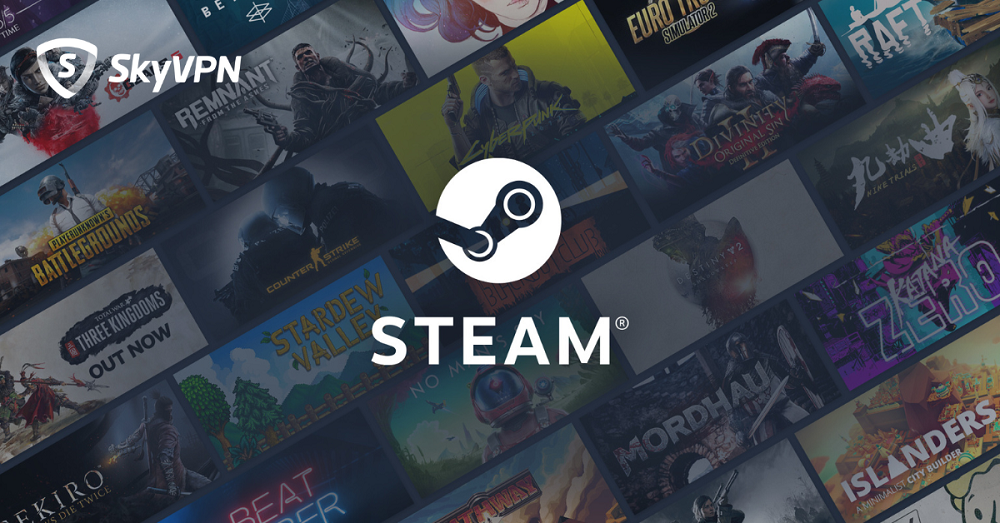 Steam is one of the largest online game stores in the world, with millions of users and hundreds of games you can purchase and play on your computer or mobile device. But did you know that Steam also has lots of fantastic games you can't play because they're only available in certain countries? The platform only lets you change your country if it detects an IP address from that region. Therefore, you'll need to switch your IP address if you want to change your Steam region. There's an easy way to change your region on Steam to access all those games! Here's how to do it step by step.
How to Change the Region on Steam
The easiest way to change your Steam location is to use a top-tier VPN. It's a simple app that makes it seem like you're in a different location by replacing your actual IP address with one from another country. This way, you won't have to worry about not having access to the games you own at home, or buying games at higher prices.
Steam by default selects the server most close to you and sets it as your initial Download Region. You have the option to override the option from the client's settings. Take a look at how to use Sky VPN to change the region on Steam.
Step 1. Download and install Sky VPN.
Step 2. Connect VPN to the server in the country you need.
Step 3. Log in to your Steam account and add a game to your shopping cart.
Step 4. Click on "Update Store Country."
Step 5. Enter a new billing address in the selected country and click "Apply Country Change."
What Should the Best VPN for Steam be Like?
Capable of Unblocking Steam Ban
Steam has banned your IP address or you simply can't access your usual social media platforms while at work. A good VPN for Steam should be able to unblock the Steam ban so that you can access all the games that you want to play. You can choose the Basic SkyVPN service without registering or enjoying Premium VPN servers for free.
Capable to Smoothly Connect with VPN Servers
A good VPN for Steam should have a large server network so you can always find a fast connection, no matter where you are. SkyVPN allows you to enjoy a fast, stable, and seamless VPN connection. All it takes is just one tap and you can connect to one of SkyVPN's servers to enjoy a better net with a fast and stable VPN connection.
Secure and Reliable
A good VPN offers strong security and privacy protection, so your gaming sessions are safe from prying eyes. Sky VPN can secure tunneling protocols to ensure that you'll stay anonymous online – which is important if you're trying to avoid regional censorship blocks like those imposed by Russia. No one will know what sites you visit or what files you download when using our service!
Can't-Miss Tips to Stick to When Changing Steam Store Region with a VPN
It may seem simple and straightforward to change your store's region and currency in Steam, but there are a few things to be noticed. Here are the most important things to keep in mind before, during, and after changing your Steam country.
Steam only allows you to change your store area and currency once every three months. This is to prevent users from changing their store area too often for better deals on games.
It requires a local billing address to change your Steam Store region. Finding some friends who are willing to share their address and zip code with you for this purpose is recommended. Otherwise, you won't be able to buy games from that country.
If you are in Russia, you need to use a Russian credit card to top up your Steam wallet. Otherwise, you will most likely be banned from Steam. This may allegedly be because games and in-game items are 80-90% cheaper than anywhere else in the world.
When choosing a VPN for logging into Steam, you'll want to check whether the provider has servers in the country you want, if there are any bandwidth limitations, and how fast and secure the encryption protocol is.
Why SkyVPN?
SkyVPN gives you access to the fastest VPN servers. SkyVPN uses bank-grade encryption to ensure that your data is secure, and all your online activities remain completely anonymous. You can use it to enjoy a faster WiFi hotspot connection and have a better net at work, school, or just hanging out.
Easy, fast, and stable
SkyVPN allows you to enjoy a fast, stable, and seamless VPN connection. All it takes is just one tap and you can connect to one of SkyVPN's servers to enjoy a better net with a fast and stable VPN connection.
Surf anonymously and privately
While connected to our VPN servers, your online data is encrypted and protected so that your personal IP and physical location remain hidden at all times. You can surf the internet anonymously and privately without any tracking or monitoring. SkyVPN even secures your browsing records and private information while you're connected to a public WiFi hotspot.
Unlimited free VPN
You can choose the Basic VPN service without registering or enjoying Premium VPN servers for free. Just earn free premium traffic for:
– Unlimited session time
– Global hotspot shield locations in the US, UK, HK, Germany, Japan, France, South Korea, Singapore, and more.
– Enjoy a better net and shield your IP with the premium VPN servers.
Share VPN across multiple devices
SkyVPN is a real VPN master that works across all devices simultaneously. Use it on: iPhone, iPad, iPod Touch, laptop, Mac, and PC. SkyVPN is perfect for learning, working, and entertaining.
FAQs about a VPN for Steam
In what countries is Steam unavailable?
Steam is a software publishing platform and game hardware manufacturer owned by Valve, which is an American company, and the United States has a software export ban due to sanctions imposed on some countries. Steam is available worldwide with a few exceptions, such as in North Korea, Syria, Cuba, Sudan, and Iran.
Can you change your region on Steam with a free VPN?
Yes, you can use the Sky VPN to change your region on Steam. Besides using a VPN, there are some other ways you could change your country on Steam without a VPN, such as:
Having a credit card in the region you want to change your country too. You can change your country, buy a game, and pay for it with the payment provider from that country.
Have a gift card from the region you want to change your country to. Same as with the credit card provider, it has to be from the country of the chosen region. However, we don't recommend changing the Steam region without a VPN, as the methods mentioned above are against Steam's ToC and it might result in getting banned. For this reason, we encourage using a VPN for a safe and reliable experience.
Why can't I change my country on Steam?
Steam doesn't allow you to change your location unless it detects a new IP address from a different country. In general, this happens due to licensing agreements and business deals – some game developers launch region-specific games and deals, for example. So, if you want to change your steam location, you'll need to use a reliable VPN with servers in the country you want to access.
Can Steam ban you from using a VPN?
VPNs go against Steam's Subscriber Agreement, so you may get banned if you try to take advantage of the system. However, you can use a VPN to play games you own that are not available in your current location. The Agreement doesn't allow you to change your location using a proxy or another method (which includes VPNs) to bypass Steam's geoblocks. This includes getting access to exclusive content and prices that do not apply to your real location. However, if you want to change your region to access games you own but are not available in your current location, you shouldn't have any problems.
Keep in mind that, even though Steam might not ban you from using a VPN, each game you're playing has specific rules and regulations. This means that if you're using the VPN to cheat and gain an advantage over your competitors, the game developer can ban you from that network.
Why is my Steam region locked?
When trying out a complimentary game, your Steam account may be region locked because the game may only be playable in the country of purchase or in a specified region. Steam will warn you before you buy if the game is regionally restricted.
Why are Steam prices different in different countries?
The price of the same game on Steam may be different in different countries. This is because some countries are relatively more affluent, so games are a bit more expensive than others. Game prices are controlled by game distributors, not by Steam.
Final Thoughts
Using a VPN will let you change your Steam region from anywhere so you can access everything you need from back home. It enables you to purchase in-game items that are region-specific. Additionally, it keeps you private when gaming and secures your data with military-grade encryption.
Download now and explore all of SkyVPN's benefits: High speed, unlimited bandwidth connections with best-in-class encryption. Choose any region in the world you want, and access games fast! Strong DNS leak protection keeps you safe from identity theft. Easily bypass blocked websites or restricted content. Don't let location limitations hold you back – unlock them today!